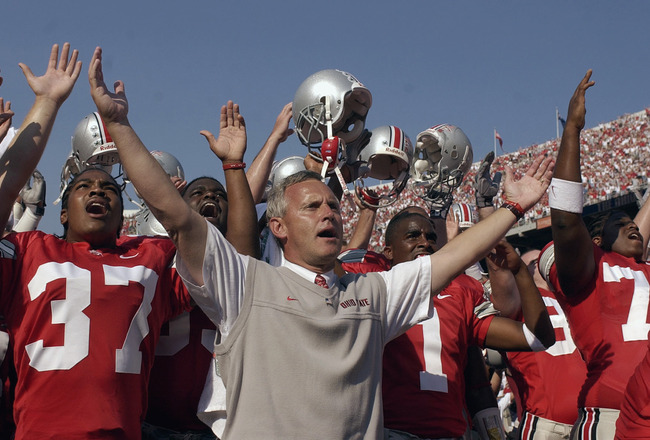 It is hard to believe how small in Jim Tressel is when you meet him face to face. When I meet someone who has a legacy that is larger than life, I always expect that person to be mammoth and tower over me. I always expected to see Coach hulking over me, rather than standing eye to eye with me.
I remember my first encounter with him at my high school. I had applied to be a student manager during my senior year of high school in the fall of 2001, and my high school coach had arranged for me to come down and meet the man who had just been hired to lead the football team I had idolized since I was a young boy. I personally wasn't all that crazy about Coach Tressel being hired then. (In my immature 18 year old mind, I had wanted either Glenn Mason or Mike Belotti. It is probably a good thing I wasn't the AD or I didn't help Andy Geiger make any decisions back then.) He was visiting all of the high school coaches around the state and introducing himself, which shows how business savvy he was right from the start. I think the one thing I will take away from that meeting was how intently he listened to me and made me feel like I was the only reason for his visit. Coach Tress has always had a way of doing that. He makes you feel like you are the only one in the room, and it seems like he genuinely cares about anyone he meets.
I ended up getting a position as a manager, and I quite frankly I was a bit shy my first few years in Columbus. It was the first time I had ever been away from home in my young life, and I was depressed. I didn't have a lot of free time during the fall, which is when everyone is meeting and making new friends on campus. Plus life as a manager wasn't exactly the most glamorous position when you first arrive. Like any organization, the student managers are a hierarchy, and the favorite line from my elders was "Sh*t rolls downhill" or quite simply the newbies did most of the work. Throw in a heavy dose of hazing and I was ready to pack it in and go home. My parents made me stick it out though, and it was the best decision that was ever made for me. Obviously, everyone knows what occurred in 2002, and it will go down as one of the greatest seasons in Buckeye history.
The Coach I Knew
Everyone always asks what it was like during the championship season, and I typically lie and say it was great. To be honest, it was one of the toughest years of my entire life. I was still battling a little bit of depression, and then there were troubles that started brewing at home. With my family at home falling apart, often my mind was in Toledo even though I was physically in Columbus. The spring only brought more pain as my family problems worsened, and I couldn't wait for the end of the school year to come so I could go back to Toledo and help out.
The last hurdle on the student manager calendar is the annual football camps the Buckeyes host each summer. In a matter of two weeks, roughly 8,000-10,000 kids travel from all over the country to come and camp with the scarlet and gray. The managers play a critical role in helping to staff the camp, and it is a long two weeks (those who have seen this know what I am talking about).
We were right smack dab in the middle of another session of kid's camp, and I was looking for a place to get some peace and quiet inside the Woody Hayes Athletic Center. I took a short cut to head towards the player's lounge and which went past the back door to Coach Tressel's office. I punched in the code to enter the secure locker room door, and as I was heading through, I heard from the open office, "Schmidy, how's it going?"
"Fine," I said as I walked through his door.
"Give me one sec, I am just finishing up this letter to a guy who is overseas in Afghanistan," he said, " He is from Coshocton and I met his father a few weeks ago, and he had asked if I would write something for him." I nervously was able to utter something in response, while I anxiously awaited to meet with Ohio State's version of the "Great and Powerful Oz."
He finished his letter and sat back in his chair. "How are things?" he asked.
That was all I needed to hear. I unloaded on him for the next hour or so about all that was happening at home, with tears streaming down my face. I am not sure why I chose to let everything go then, but I think I needed someone to talk to. The months of worry and anguish poured out of me.
Coach Tressel never cut me off, and all he did was listen. He sat with his eyes transfixed, adding the occasional nod. When I had spilled everything, he gave me some advice. He told me to do all I could to be there for my family. He told me to trust in God's ultimate plan, and then he shared some personal struggles and how this advice helped him get through those tough moments. When I was getting ready to leave, he reiterated what he had told me, and he let me know his door was always open.
I left his office knowing my relationship with him had transcended just the typical working relationship, and it was the first time, I truly realized that there was more to Jim Tressel than winning football games.
I had many more meetings with him over the next three years, and I felt like he and I had a special bond. It still is hard to for me to understand why he took the time to help me. I truly meant nothing in the grand scheme of things of that program. I did grunt work during my time there. I did things that anybody with half a brain could do. I was never going to throw a touchdown pass, recover a fumble, or kick a game winning field goal. The truth was I was dispensable, and I am sure the team could have found anyone to replace me. Yet every time I needed something from him, Coach Tress has gone out of his way for one of his own.
I could regale you with many stories when Jim Tressel was there for me. When I was writing a cover story for a newspaper about religion in sports, my first call was to Jim Tressel. The day before Thanksgiving in 2009 and three days after beating Michigan, Coach carved out two hours of time, and he and I met to talk about his life and religion. As far as I know, I am one of very few media members to get that kind of access to him during his tenure as head coach.
He could be funny too. In 2005, we played a night game in Happy Valley, and if anyone has tried to travel to State College, PA, you know it is not an easy trip. It happened that we were in a weird weather cycle. It was unseasonably warm for October, and as tends to happen in the fall in the Midwest, the temperature will be 75 degrees one day and 45 the next. This created some fog on the ground and our pilot had deemed it too unsafe to land.  The coach, who arranged all of our travel plans, was Bob Tucker. Coach Tuck was a great guy, but he was someone who was always on edge. Since we, as managers, dealt with Coach Tucker a lot, I could tell by his nervous energy that something was up.
We had to sit and wait to take off, so that the people in charge could make alternative travel plans to get us to Happy Valley safely. I was sitting in the front row in the lounge at the airport, when Coach Tressel and his wife came up and sat down a few seats away. After a moment or so, Coach Tucker returned and asked Coach Tressel how he wanted to handle telling the players.
"Should we announce now or on the plane?" Coach Tucker nervously asked.
"Well I don't think it's that big of a deal," Coach Tressel said.
"Well I just don't want the guys to be upset that our plans are screwed up."
"We could tell them that we have two options," Coach Tress said, "We can fly into Harrisburg and bus the rest of the way and live, or we can try to land in State College and crash and die." He then turned towards me and looked at me and said, "Schmid, which do you think we should do?"
I have been faced with some tough choices in my life, but this seemed pretty straight forward.
I replied, all be it tentatively, "I think we should live."
"Schmidy says we should live Coach Tuck."
I still tell that story every chance I get.
The moment I will remember most is after the team had beat Notre Dame in the 2006 Fiesta Bowl. That was the year of "The Catch" in Ann Arbor by Anthony Gonzales. I got to watch Troy Smith play out of his mind against Michigan again, and we played Notre Dame for the first time since 1996. As we always did, we circled up to sing "Carmen Ohio" one more time for the 2005 season. It also happened to be my last game as a manager. As we walked towards the band, the gravity of the moment hit me. This was the last time I would get to stand on the field and sing the alma mater. Something that had become a main stay in my life was over. I could feel tears welling in my eyes, and it was all I could do to hold them back. Eventually my emotions won out.
As we walked back to the locker room inside the depths of Sun Devil Stadium on a cool night, I couldn't help but think how fast it all went by. Entering the locker room, I did my best to not be noticed during the speech in the locker room. After congratulating the team on a win, Coach Tress turned and his eyes met mine. Blurry through tears, I looked down at the carpet, not wanting to draw any further attention to myself. As he made his rounds through the locker room thanking everyone for a job well done, he approached me.
"You gonna be alright man?" Coach Tress asked.
I chuckled and replied, "Yeah I'll be ok."
We shook hands and he gave me a hug, saying, "We'll miss you Schmid."
Now I am sure I am not the only person he said similar sentiments too that night, and I would be shocked if he hadn't. But it just goes to show, it doesn't matter who you are or what you did, we were all equal in Coach Tressel's eyes.
Memorial Day
There isn't anything to prepare you for the way I felt last Memorial Day. I knew the inevitable was coming, and yet I never wanted to believe it would happen. I thought if there is one person who could survive the storm, it was Jim Tressel.
But there it was plastered all over reminding me that Coach Tressel had resigned, and he was no longer the head coach of the Ohio State Buckeyes. I sat in shock and in disbelief that it had come to what it had, and yet I think in some way I think we all knew the allegations would eventually be too much to bear. Just as he always did, Coach Tressel knew he had to go. I am sure Gene Smith and Gordon Gee pressured him into it in some way, but at the end of the day, I think he knew it was too much. Not too much for him, but too much for everyone else.
There's no question he made a mistake, and I think today he would tell you that. He would probably say if he could do it over again, he would have forwarded those emails to the proper authorities within the Ohio State athletics department. Unfortunately we don't get to relive critical moments in our life, and while he may have had the purest of intentions, ultimately he made the wrong call, at least as far as the NCAA is concerned.
I tried for weeks and months to reconcile what had happened, and all I wanted to do was understand and wrap my head around what he was thinking. I couldn't figure out why someone as smart and as savvy could make such a decision that would spell death to his career like the one he made. I found myself feeling sorry for him and angry with him all at the same time, and yet I didn't have any right to feel that way. I couldn't stand the way the media and opposing fan bases talked about him. He went from beloved to hated in a matter of months, and I bet it felt pretty lonely being Jim Tressel some days last spring.
But I think the one thing I never wavered from through all of last spring was just wanting to still be there for him. I have heard others say he was surprised how many people turned on him last year. I was bound and determined to not be one of those people.
Driving back from my honeymoon last year, my wife and I made a stop in Columbus, and I made it a point to see my Coach before I went home. As I came over the hill near his home, there was Jim Tressel mowing his lawn. As I pulled into his drive and got out of the car, my mind was racing. As I strode down the sidewalk in front of his home, he looked up and then a smile came across his face. We talked for maybe 10-15 minutes, but I wanted him to know I was always going to stand by him.
The sad thing is I think that moment meant more to me than it did to him. I don't mean it as though he were callous and didn't care that I was there. I just think seeing him and knowing his life went on, meant that I didn't have to worry about him. I knew Coach Tress would fight back and he would come back strong.
I make it a point to text with him more often now. I do all I can so that he knows I, like many others, never forget what he taught us and will always be his guys. I will never forget the times in the trenches, but more importantly, I won't forget the lessons he taught once you crossed off the fields of play and into the real world.
Alfred Lord Tennyson once wrote "Authority forgets a dying king." I feel I know a little bit about what Tennyson meant with those words. Today, Buckeye Nation is ready for bigger and better. Urban Meyer has helped Buckeye fans do what they longed to do last year: forget. While I, like many of you, are excited for what is to come, I will never forget what once was.
I have read things that encourage people to move on and get over it already. Jim Tressel is gone, and he is never coming back.  I refuse to do so. I know to forget would be to disrespect the last eleven years of my life. I know he won't be back, clad in a gray sweater vest roaming the sidelines. But I won't ever stop remembering what he did for the football program, the university, and for me. He was there for all of us, and we should all thank him. It's the least we could do
Be sure to check out other articles from the Buckeye Bloggers Network that look at Jim Tressel's career and legacy at Ohio State:
.