Social Buttons
by
Linksku
The offseason brings us another variation from the format of your midweek news and notes, as a couple of big stories have dominated the college sports landscape. That being said, it's not like I'm going to deprive you of your Wednesday motivational tunes.
Lack Of Institutional Control
For those of you waiting for the other shoe to drop in the Hurricane Situation, you can breathe a bit now.  Kinda.
On Tuesday, the NCAA finally sent their Notice of Allegations to the Hurricanes, after a week  that saw the folks from Indianapolis as the well focused center of national ridicule. We'd be wondering what was taking so long in this process, given that the NCAA had been "involved" in the investigation for over two years- turns out that the time in question had been spent violating the NCAA's own principals and going against the advice of their legal counsel in their conversations with Nevin Shapiro.
In addition to paying the attorney who was questioning Shapiro as a part of his financial issues, the folks at the NCAA also provided him with a "burner" cell phone to contact them and financial resources to his prison account. Again, not the best idea for an organization who prides themselves on holding people accountable because the "should have known" what to do and dings them for not doing it.
The fallout was immediate- NCAA folks terminated or "resigned", and folks calling for NCAA president Mark Emmert's head, which, given the recent friends that he's made across the nation, completely seems within reason.
The news of the "injustice" done by the NCAA to the fine folks in Miami ended up finding many fans in an interesting place- turning to Da' U as their white knight in the fight against the evils of Emmert's staff. Tuesday's official response by University President Donna Shalala continued to create the dissonance- she is right that the NCAA has overstepped themselves extensively, but seems to forget that the University's representatives were involved things that led them to receiving what many say is the "lack of institutional control" label in their Notice.She also forgets to note that she and her former Athletic Director were connected to the NCAA for a long while, with the AD being an instrumental figure in Southern Cal's current probationary status. Her letter indicates that she believes that Miami has been penalized enough, that the self imposed sanctions that her leadership team chose to administer a) after a less than successful season on the field and b) based on the words of the convicted felon that she wishes to discredit in today's statement, identifying him as one who "made a fortune by lying".
There are, unfortunately, no winners here even though the Hurricanes' situation is pretty favorable if they are hoping to avoid any further major sanctions. The court of public opinion is firmly in their favor at this moment, if not due to this situation, certainly due to the number of disgruntled fanbases across the country. Which , to be candid, is unfortunate- The matter in Miami is not going to change things for Ohio State or Southern Cal, although it will possibly make Todd McNair much richer.  The folks in Happy Valley have got to be interested, though, as are the people in Eugene- both are either pushing back or awaiting their turn against Indianapolis' at the time where the NCAA looks the most vulnerable.
While I'm not a fan of the inconsistency of the folks in Indianapolis, both in what they chose to address and how they do so, I've got to admit that I can also feel a bit of… well… pity for Emmert and his team. He came on board after his predecessor had allowed issues to grow beyond control due to the need to protect the brand and expand the market. His charge was to reign things in, but his ability to do is limited to the cooperation of those involved; which, as we've seen, is illogical- we're learning, if only by example, that cooperating (as Southern Cal and Ohio State did) only leads to being destroyed in the media and sanctioned by the organization.
It's really a lose/lose situation: Common wisdom is that college sports have corrupt elements, but any attempts to address those is also seen as capricious and heavy handed.  If the very foundation of major college athletics is broken, as this story seems to again reinforce, no amount of additional work will be sufficient to fix it.
B1G Expansion
Tuesday's other big story was the rumors and innuendo that fill our time now that we're between NLOID and March Madness/Spring Football. Yup, it's time to spin the ol' "Wheel Of Destiny" and see what's the latest happenings around the world of "As The B1G Turns"- which, to be honest, wasn't really much of anything.
Tuesday's "news"- Virginia was leaving for the B1G, Georgia Tech and North Carolina were also entertaining offers- was nothing that you haven't read here at least weekly for the last several months, but were given extra "credibility" by being announced by the same group of Maryland writers that dropped the "Terps to B1G" news on us several months ago.
The responses were as expected. Some fans saw this as watering down the brand and not helping the athletic conference at all, completely forgetting that (as loyal tBBC readers will remember) expansion is about television AND research dollars over and above athletic stability. Fans from the ACC were torn by the "news" that one or more of their flagship programs was considering jumping ship- for most people, the future of the conference is totally dependent upon what happens in Chapel Hill.  Others were discussing a "fit" for these southern programs in the northern/midwestern conference, while some recalled a famous Ohioan's last visit south and projected a similar strategy.
The facts, though, are that this process may be simmering for a while. Maryland's attempt to get out of the ACC buyout hit a legal snag this week, and it's easy to imagine that the other schools involved in this possibility will want to see what will happen in court before proceeding.
What's the endgame? Well, many think it's a destabilization of the ACC to the point where, in addition to other conferences picking off ideal partners, Notre Dame has to finally join a conference in order to stay at the table for the upcoming national playoff picture. While athletics is only a small part of the story here (again, HUGE research dollars), it is interesting to think of Jim Delany leveraging these moves in an effort to pull the Irish into the conference given the history of Notre Dame's relationship with their fellow midwestern institutions.
Connecting The Dots
So- What do these two stories have to do with each other? Just that they both again prove that major college athletics has simply outgrown the "intercollegiate" model that they were established under.  As the situation in Coral Gables (and Columbus, and Eugene, and Chapel Hill, and Los Angeles, and Columbia…) has shown, there's too much at stake here to be monitored and/or controlled by one organization.
Institutions that, throughout their entire existence and mission, seek to be harbors of intellectual and ethical development find themselves overwhelmed when the money, prestige, power, and possibilities that come with major sports begin to play a deciding role on their campuses.
Universities were not designed to be on top of the naturally occurring "improper benefits" that go hand in hand with this level of attention, and the institution that they created and voluntarily joined also has been limited in its ability to do anything but stumble about blindly; punishing "scofflaws" only years after the infractions occur or spending energy ensuring that no one can make money off of their events but them.
Heck, even the NCAA's attempts to address concerns only opens newer cans of problems that undermine the academic mission of their partners.
Meanwhile, these same Universities continue to chase financial support via new conference and television deals; some of this is to support their academic goals, but much of it goes to sustain the athletic complexes that they have created that often marginalize those goals. And this with already existing concerns about the ability to regulate these partners- in some ways, this is similar to the banking collapse; those "watching the store" are in over their heads, but the Universities and Athletic Departments are too big to be allowed to fail.
So, is there a solution? We hear people calling for the "death of the NCAA" (again, an organization that institutions voluntarily participate in), but few offer any alternatives other than a "anything would be better" comment.  The article linked above does a pretty good job at tearing down the "amateurism" ideal that is behind some of this, but there's still a huge set of problems not addressed.
I'm still formulating ideas myself- leaning toward having the athletic programs change their allegiance to being sanctioned and supervised minor leagues of the NFL and NBA, with contractual (not educational) relationships to their historic campus partners- but I'd be interested in what your thought were.
If Since the NCAA's broken, how do you fix it?
Silver Bullet Points
Oh yeah, this is an Ohio State site.  As such, this is awesome: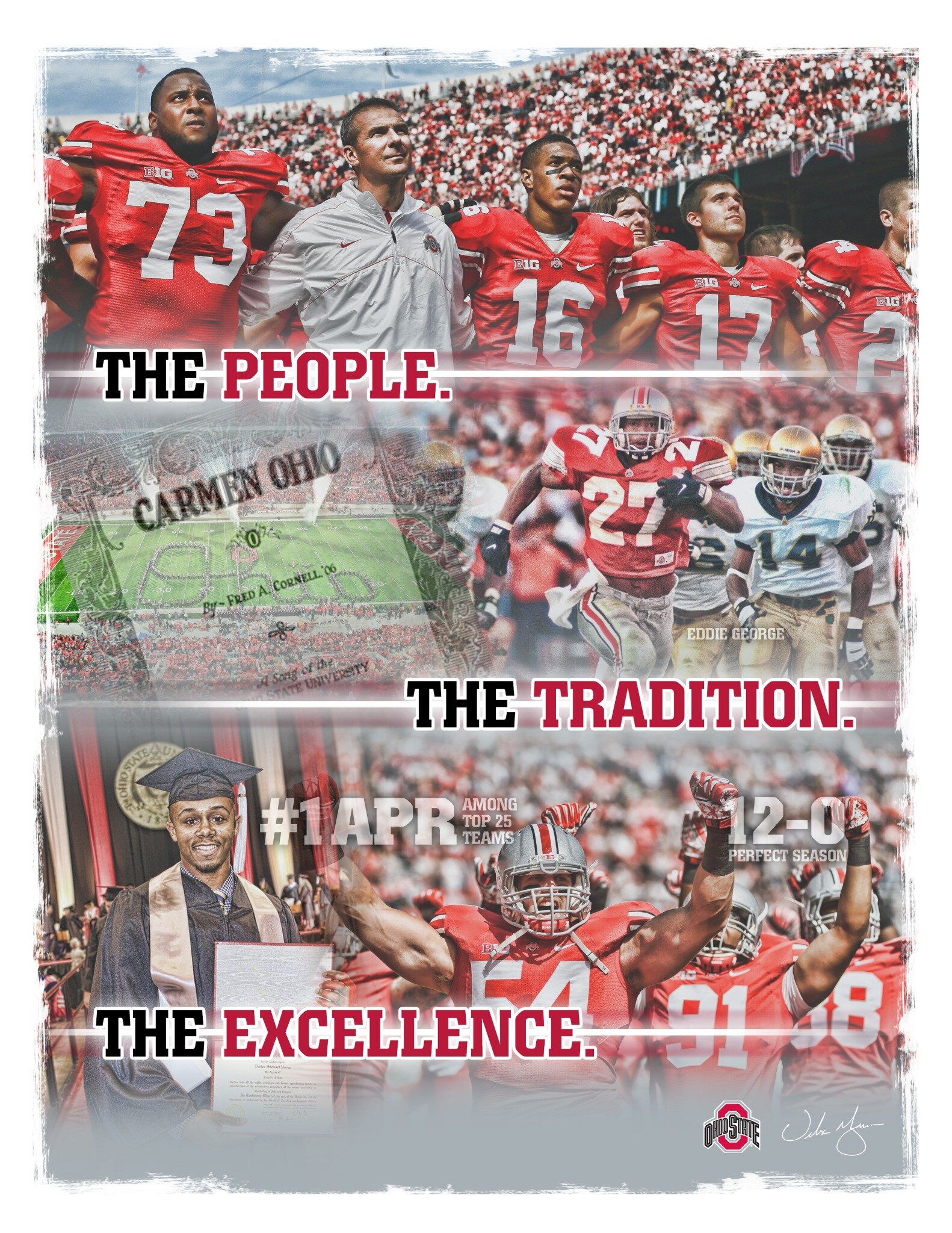 Elsewhere In The NCAA

"We were approached by the Big 12, and I told them we're not a good fit for that conference. In the Big 12, geography makes sense, the economics make sense, but recruiting makes no sense for us. I can't recruit against Texas, Oklahoma, Oklahoma State," Mueh told the paper.

"That's why I turned down the Big 12. I can't do that to my kids, because they'll get beat up. I'd love the extra $12 million or whatever it would be per year from the TV money. And I know how I'd spend the money. I'd build a new soccer stadium, and I'd build a new baseball facility, all in one year. But I can't do that."
And, Finally- I actually have enjoyed the Triple D establishments that I've eaten at, but this is pretty freaking hilarious.