Hopefully you're either recovering from the long weekend or making plans for the next one… as an educational moment, though, be sure to know what you're doing. As for me, I had a great weekend up above the treeline and enjoying some music that made me remember my college days… so, it's also your soundtrack.
Buckeye 411
As I studied the statistics from year #1 to year #2 at Meyer's three previous colleges, I noticed that the rushing offense and scoring offense improved at all three programs.  Outside of those statistics, it's hard to recognize any trends.
Good news for OSU fans… bad news for the B1G.
Sadder News- Former Ohio and Ohio State coach Tom Lichtenberg passed away on Sunday after a fight with cancer. He was 72. A coach under Earl Bruce, one tie he has to the current team is that one of his former graduate assistants is now the head coach. Thoughts and prayers to the Lichtenberg family.
Uniformity? Since we didn't have any major bombshells this Memorial Day Weekend (thank God), it was good to see that Buckeye Nation was all atwitter about the possibility of going full Oregon this fall in terms of costume selection. We know for a fact that there will be a change in the uniforms this year (it's been a while, and it's a good time to capitalize on what's sure to be an epic season by making new jerseys that will sell and make money for everyone but the players have the new staff put their mark on the program), but I'm hoping that we'll get a little more Eddie and Orlando rather than Phil Knight's other monstrosities.
Some Recruiting News- The Nation's top quarterback put out his list, and Ohio State is in the final five; Kyle Allen has plans to make it to Columbus this summer. Also, this weekend is the Nike Elite 11 and NFTC Camps, so there will be a number of top tier athletes on campus. They won't be able to meet with coaches while they are at camp, however… unless they set up unofficial visits, which is what #1 overall 2014 player DaShawn Hand and top 2015 recruit Tim Settle have elected to do. Stay tuned.
Troll Tide- Today, the SEC discussed the move to 9 conference games, a decision that would take away some of the cherished home games that SEC fans are packing the stadium to see. Alabama coach Nick Saban seems to be behind the idea, although in his comments regarding SEC strength of schedule was this fantastic gem:
How many (of the SEC's top 6 programs) would Ohio St have beaten? Would they have won 3? I don't know.
It's always nice to know that someone is thinking of you, right?  Anywho, as you can imagine, the response was pretty interesting: Spencer Hall brought his usual crack-analysis (why the UC photo at the top, though?), while other voices brought a bit more reason into the discussion. At any rate, with Coach Meyer talking openly about the Tide and Saban having his mind on the doin's up in Columbus… this is going to be a hell of a season.
"I Wanna Go Back To Ohio State, To Old Columbus Town…" Silverman's work this week reminds us of yet another reason why: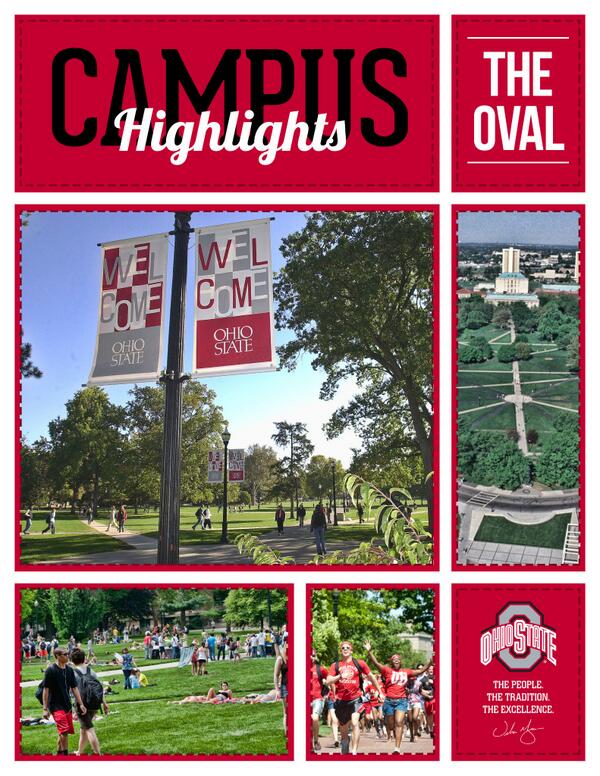 Commentary-  Michigan? Man…
It was a big moment for the Sun and Blue this weekend, as the nation's #1 defensive back and #2 overall recruit, Jabrill Peppers, gave his verbal to be a part of the Wolverines' 2014 class. Currently, that class sits a top the rankings, although May recruiting title trophies collect the same dust as September Heismans.
To be honest, I'd have thought they'd be more excited about the other new member of the team from this weekend… Seems to fit in better.
This isn't to say that what's happening in Ann Arbor isn't a good thing- for a rebuilding program, and for The Rivalry. You know my opinion; I'd rather defeat a valiant foe than crush a wounded cockroach… it should always be like 2006. And, I'm on the record as thinking Coach Hoke is a perfect fit for their program at this time… he's their Jim Tressel, even if he can't seem to find a sweatervest that would fit.
The challenge, though, of recent days has been the reemergence of "The Michigan Man"; those fans that you know so well, because you've seen them coming out of Wal-Mart. Again, I have the utmost in respect for graduates of That University… academically, it's a great school.  But the LOLverines who beat their chest after a narrow home win against the worst OSU team in a decade, who celebrate yet another loss to an SEC team in a bowl game, and who see recruiting successes as a sign that glory is soon to be restored are poor representative of their chosen institution.
I know that all fan bases have their "rogue" elements (looking at you, Michael Cooper), and they also have their great sides… Heck, I work with a TTUN fan on a regular basis, and have somehow learned to tolerate Yost from the MZone.
All that being said, it might be good to have a quick review of the state of things in order to educate those unwashed that you might engage during the offseason.
Ramzy, as always, hits a home run by recounting how much of Michigan football depends on the great state of Ohio… whether they want to admit it or not-
Michigan football has been built largely by men from the state it proudly claims to hate, on everything from its lying footballs to loud t-shirts. The Wolverines' historical success has been constructed with the aid of this imported talent, the output of which is that famous, empty arrogance.
And about that legacy? Friend of the program and Buckeye Planet guru LordJeffBuck has this great statistical look at the numbers behind TTUN's prestige-
Michigan's big claim to fame is being the all-time winningest program in college football, with 903 victories and a .7345 winning percentage, both of which are the best in college football history.Since 1924, Ohio State has been a more winning program than Michigan, with 655 victories compared to 654 for Michigan.
Prior to 1924, Michigan had 249 victories, compared to 182 for Ohio State.
Michigan really made its reputation in the twelve seasons from 1894 to 1905, when they compiled a record of 112-9-4 (.912 winning percentage), with five undefeated seasons and four national championships.
During the same period, Ohio State compiled a record of 69-42-11, for a .611 winning percentage.
If we add in the 11 wins that Ohio State vacated in 2010, then Ohio State became a more winning program than Michigan in 1902. Since then, Ohio State has 795 wins, compared to 794 for Michigan.
Ohio State also has a better "to date" winning percentage for every year from 1902 to 2012, except for the two-year period from 2011 to 2012. In other words, take any given year beginning in 1902, and calculate the two teams' winning percentages from that year through 2012. Ohio State beats Michigan every time, except for 2011 to 2012, when Ohio State compiled a record of 18-7 (.720 winning percentage), and Michigan compiled a record of 19-7 (.731 winning percentage).
From 1902 to 2012, Ohio State's winning percentage is .7316, and Michigan's is .7297.
Prior to 1902, Michigan had a winning percentage of .771, and Ohio State had a winning percentage of .549.
If we add in the 11 vacated wins, then Ohio State beats Michigan in "to date" winning percentage going back to 1899.
So… they don't have a program without Ohio, and they don't really have much of a leg to stand on in terms of statistical relevance since the late nineteenth century.
But man, can they shake the beejesus out of those keys.
Something We Can Get Behind
You know that we're constantly looking at some of the foundational issues in college athletics here, including the ideal of "amateurism". Eric, Westy, and I have each written about this issue at numerous times hereabouts, which is why I'm excited to see what becomes of this project:
I've reached out to the creator; Hopefully, as a fellow Angeleno, we can make a connection and be a part of this project. We'll keep you informed.
Around The NCAA
And Finally

There's a whole lot of time wasting going on in the world… and you're wasting time not getting to it. Go! Now!