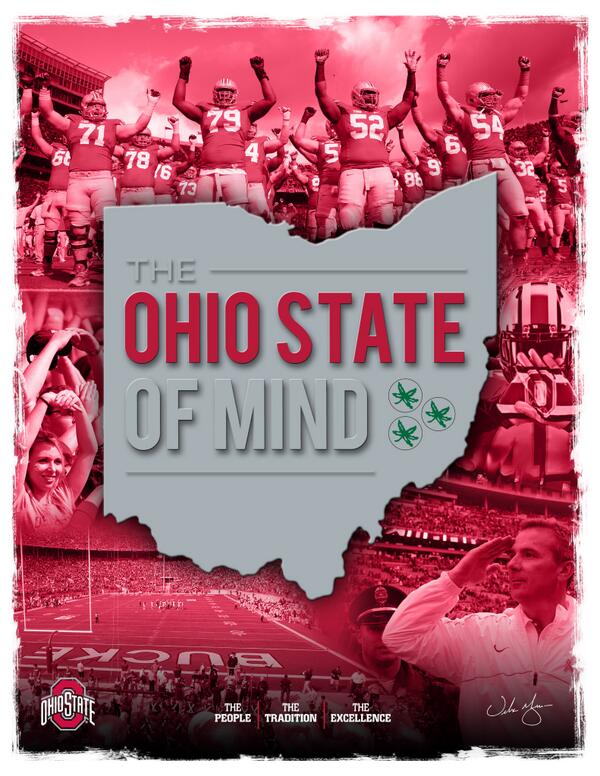 Following up on the earlier announcement of scheduling with our new BFFs in the B1G, Ohio State released the conference schedules for the 2016-17 seasons today.
As a reminder, this is when the conference moves to a 9 game schedule; 6 divisional foes and three from the Leaders Legends West.
Here's the info you need to start scheduling your travel priorities:
2016 Ohio State Football Schedule
Sept. 3 – Bowling Green
Sept. 10 – Tulsa
Sept. 17 – at Oklahoma
Sept. 24 – Off
Oct. 1 – Rutgers
Oct. 8 – Indiana
Oct. 15 – at Wisconsin
Oct. 22 – at Penn State
Oct. 29 – Northwestern
Nov. 5 – Nebraska
Nov. 12 – at Maryland
Nov. 19 – at Michigan State
Nov. 26 – Michigan
Dec. 3 – Big Ten Championship Game
Starting in October, the Buckeyes will see nine/ten straight conference games on the road to Indianapolis- compare this, if you will, to the SEC's practice of scheduling something called a "Wofford" midway through the season as a palate cleanser.  Also, it should be noted that this season will be the last that we'll see of the mythical "Purdue" until 2018, unless they make it to the Conference Champ… sorry, I just couldn't do it.
Across the conference- Penn State will conveniently not play any of the traditionally top three teams in the West in 2016; prepare for "We Are!" chants with a zippy "Fortunately Scheduled!" response (ok, maybe a bit wordy). TTUN will miss the two Western "N" teams in 2016 as well.
Wisconsin's karma runs out, as they play Michigan, Michigan State, and Ohio State in 2016 after avoiding them prior.
2017 Ohio State Football Schedule
Sept. 2 – at Indiana
Sept. 9 – TBA
Sept. 16 – Oklahoma
Sept. 23 – at North Carolina
Sept. 30 – at Rutgers
Oct. 7 – Maryland
Oct. 14 – at Nebraska
Oct. 21 – Off
Oct. 28 – Penn State
Nov. 4 – at Iowa
Nov. 11 – Michigan State
Nov. 18 – Illinois
Nov. 25 – at Michigan
Dec. 3 – Big Ten Championship Game
You'll note that Ohio State opens its season on the road against Conference Foe Indiana in 2017; the first time the Buckeyes will have opened in conference since 1976 and on the road since 1998. It's interesting to note that this season has 6 away games scheduled- typically, the Buckeyes have tried to have 7 home contests in order to make money reach out to fans, but Ohio State seems OK with the configuration.
Huge non-conference games for OSU that year, with the Sooners heading to Columbus and a trip to Chapel Hill… you know, if they still have an athletic department.
If you're interested, the Cleveland Plain Dealer has a great look at what's known about the Ohio State schedules through 2023. Perfect for rebutting the "They don't schedule anyone…" arguments, right?