Well, it's certainly been an… interesting… day as far as news goes. But before we dive into the dregs of college sports (and those who "oversee" it), let's enjoy the fact that it's finally FOOTBAW! season.  Here's your "pump up"/palate cleanser before the season kicks off.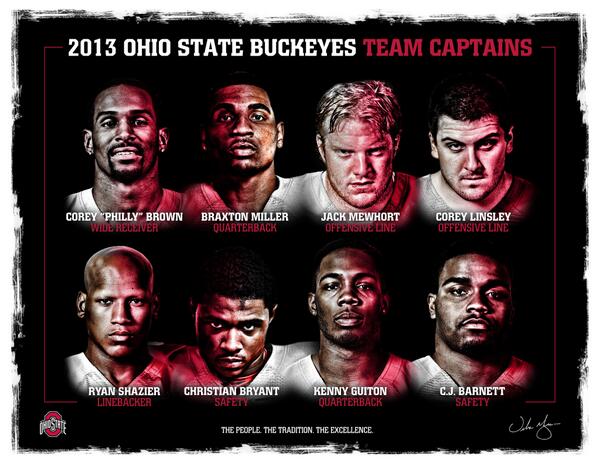 Buckeye 411
Captains, My Captains- Well, the news yesterday that Ohio State had named eight captains to start the season surely made Tom Bradford happy, although it did make the position seem a bit like the "everyone gets a trophy" phenomenon we see in youth soccer. My guess? Urban is looking to "spread the wealth" among several people since there's no small group of standouts this season.  At any rate, I'm ecstatic that Kenny Guiton will be getting the opportunity to lead, even as a "backup".  Smooth Jazz for everyone.
Wash It Down With Juice- Today, many lucky souls in the media got to experience the new food that will be enjoyed at the 'Shoe this season. As you remember, the University ended their contract with Sodexho and is going a bit more local with Levy Restaurants for their fan- fare.  Marcus Hartman has great coverage of the reason that I hated him all day on Tuesday… wonder what this will mean for the fitness of the two ushers on our staff? Luckily we have a fitness guru to keep them in shape.
Injury Report- Coach Meyer said on Wednesday that Defensive Lineman Tommy Schutt will miss 6-8 weeks with a broken foot; "Mr. Adaptability" Chase Farris will return to the Defensive Front from his tenure with Coach Warriner. Schutt had been working in with the first team as practice progressed this fall- here's wishing him a quick recovery.
Sure, Why Not? Ohio State has 8 captains, why not 10 "Assistant Head Coaches"?  Stan Drayton was elevated to that role over the past month due to his investment in the program… and he certainly deserves it.
BULLetin Board Material- Sure, it's just a fansite (not that there's anything wrong with that), but here's a "hate piece" from The State College Of New York At Buffalo fans.
Thinking Healthy- A couple of other wellness stories this week: The Dispatch had a great discussion about the concussion debate, and talked at length with Andrew Sweat about his decision to walk away from football due to the issue. Also, Maurice Clarett was in Columbus again to advocate for expanded health care and mental health support. Nice work, folks.
Welcome To The Interwebs- Coach Meyer must have heard that Ken was finally on twitter, since he decided to join him this week. Also online? Ohio State announced their official YouTube Channel, which brings us awesomeness of this nature:
Basket Bucks- The B1G Hoops schedule was released today, and you've got to think that students were less than happy. The Buckeyes will face Maryland before Finals week, and then host Michigan State while most of the Nuthouse is on Spring Break.
Hey, Don't Let The Truth Get In Your Way- The major news early this morning was the Rolling Stone "expose" on Aaron Hernandez, which was teased as pointing fingers at Coach Meyer's coddling of the star during his time at Florida- treatment which included covering up drug test failures and drive by shootings.  Well, when the article was actually, you know, READ, you'd see that the "scandal" was merely a repetition of the same allegations that had been beaten to death and refuted all summer long. In fact, the article seemed to say the opposite, that Coach Meyer did everything within his power to make a positive impact on Hernandez' life.  So… yeah.  But hey! Mainstream Media! Seriously, RS- stick to writing about things that are awesome, huh? Or not… whatever.
This Week In The Four Letter Network
We've got a "love-hate" relationship with the World Wide Leader, as you well know… they have a monopoly on college broadcasting, but give us Beth Mowins. In addition, it's significant to note that they are not interested in reporting the news/stories, but in making profit. Which isn't a bad thing, but it's an important factor to consider when evaluating their work. If it gains readers/viewers, it makes money, true or not.
This week we've got several great articles that point to this as well. First, DeadSpin calls them out for their creating a story out of… well… thin air. Covering a story is one thing. Covering their coverage of the coverage of a story that they manufactured is something else altogether.
Also this week the New York Times has a three part series on the impact that Bristol's network has on the world of sports. First, they outline the way that ESPN drives college football, from scheduling to creating programs out of next to nothing due to their "partnership". They also talk about the impact the network has on national perception of player prowess… stumping for the Heisman is nothing new, but to have an entire network behind one candidate takes it to another level, particularly when that network is the one that airs the award ceremony-
We knew that ESPN would provide a great venue for us to continue the conversation about Johnny Manziel that weekend," said Jason Cook, a Texas A&M athletics executive.
The Times gets more specific in showing how Louisville, this year's BCS Champion darkhorse (led by Heisman Candidate Teddy Bridgewater), owes the entirety of their program's success to their willingness to jump whenever ESPN beckoned.  Fantastic article if only for the reminder that John L. Smith used to know what he was doing. The article quotes an English Professor and other students worrying about the same thing we've talked about at this site: the athletic/academic balance-
"It is a little frustrating that when that side seems to be thriving, we on the other side are so dependent on the state and are dealing with cutbacks. I'd love it if the academics side could go to the athletics side, just once, and shake them and get some of that money."

Others on campus point out that the construction boom has left some campus buildings behind. Last October, mold spores were found in one of the dorms, Miller Hall.

"You've got all this construction money going to athletics," said Rae Hodge, a recent editor of the student newspaper, The Louisville Cardinal. "But the mold condition was so bad students had to move out."
Finally, The Times highlights that the "business" of ESPN impacts their ability to be neutral in regards to big stories, as there is a concern that certain coverage would negatively shape their relationship with their "business partners"- the NFL, NBA, MLB, and the NCAA.  This can be seen in both the decision to pull out of the concussion study coverage and other things that make their partners uncomfortable, as highlighted again by Deadspin.
Especially in a time of growing concern over "bundling" and affordability for sports and cable packaging, it's easy to realize that the network will become less about "journalism" and more about "propaganda"… although, the "E" does stand for "Entertainment". So, as we get excited for yet another amazing college football season, let's remember that what we see and talk about may not always be the "real" story.
Is It Saturday YET??? No, but soon.
Johnny Freaking Football
Well, let's get down to it.  Wait, first you should go and watch this.
Ok. On Wednesday, the Johnny Manziel "situation" was concluded with the NCAA and A&M agreeing that a suspension of the Heisman winning quarterback for the entirety and totality of the first half of the game against Rice would be sufficient punishment for his alleged transgressions.
While there was report after report after report after report that Mr. Manziel signed numerous autographs in multiple sessions for thousands of dollars in remuneration, the NCAA ultimately could not "prove" that he had received any compensation, and instead found him responsible for violatating the "spirit" of BiLaw 12.5.2.2.
Here's the official statement.  My favorite part is where the NCAA said that it was an "inadvertent violation".  I guess "inadvertent" means multiple times on multiple dates… I think I can incorporate that into my own life.  "Well, Doc,  I've inadvertently eaten my weight in pie over the past month.  Whoopsie."
Read the statement again- there are a couple of interesting things there. First, the NCAA hedges its language a bit, saying that the decision is "based on currently available information and statements by Manziel" and "If additional information comes to light, the NCAA will review and consider if further action is appropriate." So, while this part of it may be over, I wonder if the folks who broke the story will continue to dig the way that they did when things were falling apart in Columbus.
Oh wait, ESPN broke the story. And they make money from televising SEC/aTm football.  I'm sure that won't have an impact <whistles while re-reading earlier ESPN section of SBP>.
Second, the half game suspension happened because "there is no evidence that quarterback Johnny Manziel received money in exchange for autographs". Whew.  If Devier Posey got five games for a little over $3, I'm sure glad that Manziel had nothing to hide.
I've got no proof on this, but if you read the original reports and even ESPN"s account of the initial allegations, it certainly looks like the NCAA has been beaten by the criminal mastermind you see pictured there on the right; the family friend who was supposed to "watch out" for Manziel.  It's quite possible that "someone" else coordinated and facilitated any alleged signings, and even collected payments.
That's typically referred to as the "Cam Newton's Dad" situation, which has been addressed in NCAA rules since the Auburn investigation. However, Mr. Fitch is not compelled to talk to the NCAA, which makes pursuing this possibility challenging for their investigative team.
Particularly during a time where the NCAA's "popularity index" is at an all time low, and it's been identified that this would be the perfect time to skirt the regulations.
Which brings me to several questions:
What questions did the NCAA ask Manziel during the 6 hour interview, and what evidence did they have? While I don't want to be cynical enough to believe that the Manziel family's comments about Johnny signing lots of things for friends that were made in the ESPN piece that happened before the investigation came to light were merely cover given that they were probably aware that this situation might be headed for the media, I'd still like to know what Manziel's answer to the following question was- "When you signed multiple items several times for persons who were working to certify them, what did you think those persons would do with those items?"
Does race/privilege play any role in this situation? A friend of mine sent me the following picture once this all hit the fan:
I don't know who to credit this for, but will certainly do so if properly informed.
While I find it difficult to believe that an institution as large as the NCAA, who works as diligently toward at an atmosphere of diversity and tolerance, would be swayed by undertones of race, I do think that it shapes at least the public perception of certain situations. And, as we look at Ohio State and Oregon's recent messes, it's hard to feel that public perception doesn't impact the NCAA's response to infractions.
My thinking on the above statement is as follows: When Manziel first started his "summer of wonder" (Mardi Gras, NBA playoffs, Concerts, Etc.), many folks were quick to rationalize that these things were being paid for by his parents; that he could afford these opportunities without having to (improperly) benefit from his celebrity.
This narrative continued, even when it was shown to be not entirely true.
When African American high-profile athletes are seen with similar opportunities, there were a lot of public voices wondering how they are able to gain this access… even when they are sons of wealthy individuals.
Another common thought regarding Wednesday's news was that the NCAA felt pressured/intimidated by the Manziel's legal team- it was noted weeks ago that the family had "lawyered up" for this moment. Does privilege create inequity in the ability to prepare or pressure in these types of situations?
While the tide of common opinion seems to have completely turned on the NCAA… why has Manziel become the poster boy for this rebellion? Is it because "we" can connect with what "he" represents… because he looks like "us"?
Again, I don't have answers and will admit that I may be influenced in my thinking by the date in history… but if I'm not the only one asking this (and yes, I realize that agreeing with Clay Travis makes me a person of questionable intelligence), perhaps it's something that should be considered.
A major difference between the Ohio State situation and that of Maziel- Ohio State discovered the transgressions during an internal audit, self reported to the NCAA, and then bent over backwards to give as much "cooperation" as they could.  While that "cooperation" helped them avoid the "lack of institutional control" tag, you've got to wonder if it was worth it.
I've seen a number of college football fans make statements to that extent; that it's smarter to just deny and deny and make the NCAA prove that something was amiss, then to fight the process throughout. "That's what everyone else is doing", they seem to say… but is that right.
Given that these types of situations are going to continue to be nightmares for college sports until the NCAA finds a way to subpoena outside parties and given that "cooperation" only seems to end up backfiring on the schools that choose to do it, I'm interested in your thoughts on this: Should schools continue to self monitor and self report as aggressively as some of them do?
Please comment below… I'll hang up and listen.
So, with college football now upon us, we can finally get past the on field drama and play the games with the "students" who matter, right? At a surface level this is true, but I'm not yet convinced that we've heard the last of the Manziel/Autograph story this season.
Even if we never hear about it on the ESECPN again.
College Football Resources
This week, ne of tBBC Staff Email Discussions that managed to stay on topic today concerned the things we use for statistics and coverage outside of the "mainstream", and things that shape our opinion. So, here's what we've got thus far-
And a couple of great books that I've enjoyed/am enjoying/will be enjoying-
Around The NCAA
And Finally
Who says Breaking Bad isn't educational?