And now, things get B1G
Buckeye 411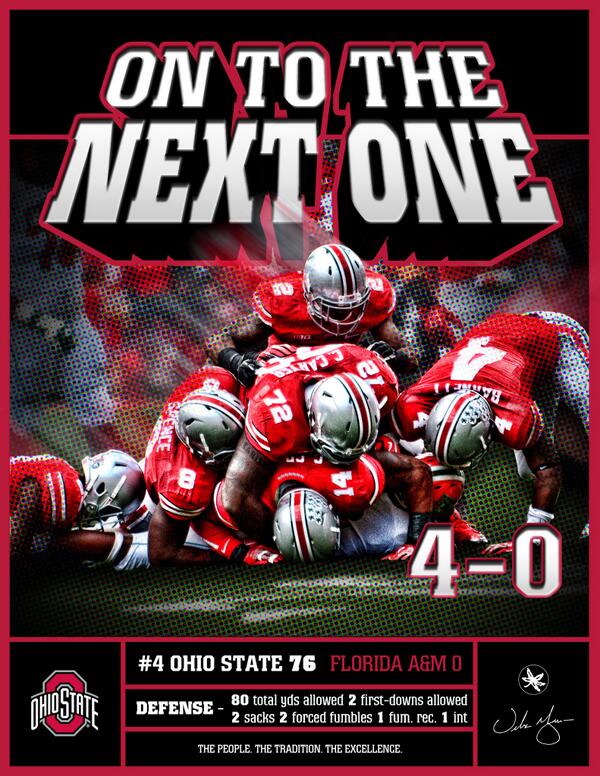 Awards Aplenty- Kenny G's record setting day half was good enough to win him B1G Offensive Player of the Week award, as well as the Earl Campbell Award. Guiton finished second for the latter after Cal; the award is given for the best performance of the week from a player from a Texas High School.
Receiving Praise- Coach Zach Smith was first on the dias Monday, as Coach Meyer was attending the funeral for Dom Tiberi's daughter. During his time, he talked about how the team feels more comfortable attacking Wisconsin's defense this year than last due to the emergence of a number of players at receiver and tight end.
All In The Plan- Coach Smith also talked about the scheme against FAMU, and that they wanted to get more "live reps" during the contest in an area that Ohio State has worked hard to develop this off-season.
Speed AND Precision- Devin Smith can "take the lid off", according to Smith, but has really excelled at his route running and willingness to do the little things that help the team be successful.
Injury Update- Coach Smith said James Clark is done for the year; it's likely that he will seek a medical redshirt. Coach Meyer said that Braxton would start if cleared to play- Cory Linsley said that Miller looked good in practice and was "back", and ESPN reported that he had been cleared to play officially.  Coach Meyer said that Adolphus Washington was "probable", and that they were still trying to be cautious with him. Michael Bennett is 100% and will play against the Badgers.
Scarlet And Redshirt- Coach Smith essentially confirmed that Corey Smith and Mike Thomas will be redshirting this season; Coach Fickell mentioned a similar fact about linebacker Mike Mitchell.
In The Trenches- No surprise, but Coach Fickell expects the Wisconsin game to come down to the Ohio State front's ability to control the line of scrimmage. It's the type of game that makes the Buckeyes' depth at linebacker a concern, especially given the strength and speed of the Badger running back corps.
High Stakes- Coach Meyer spoke with high regard for Wisconsin, calling them the "King" of the B1g following their three straight Rose Bowl appearances. He said that the preparation needed to be flawless, as these matchups often came down to one or two series or one or two plays.
No Controversy- Coach Meyer said that the decision to hold Braxton out against the Rattlers was made by both parties, but that the coaches were really hoping to get him out there on Saturday. There was speculation that there was a "heated discussion" between Coach and QB during pre-game, but it seems as if this wasn't significant enough to warrant a comment on Monday
Persistence- One of the concerns that the coaching staff mentioned on Monday was the ability to play a full game- to "flip the switch" in the fourth quarter when necessary. Given that the first four games have been well in hand in the second half, the challenge will certainly be present on Saturday.
Old Friends- When asked if he missed former Badger Bret Bielema, Urban replied, "No. I'm fine with Gary." Coach Andersen was on Meyer's staff at Utah, this will be the first time that the two face other since their time in Salt Lake City.
Badger Perspective
In his Monday press conference, Coach Anderson had several things to say about this week's matchup:
Pick Your Poison- Wisconsin is not preparing any differently for Braxton than they would for Guiton; Coach Andersen said that the offense had a ton of firepower no matter who was behind center.
Speed- He also mentioned that it was obvious that the Buckeyes had worked to recruit offensive speed, and highlighted the wide receivers' ability to run and catch well.
Run To Open The Box- Coach Anderson talked about how the ellusiveness of Wisconsin's running backs might actually open up running lanes for the Badgers' attack, that teams might choose to leave a safety a bit deeper in order to prevent a home run after a missed tackle.
Birds Of A Feather- Much was made during the press conference of Coach Andersen's similar philosophy and temperament to Coach Meyer.
Secondary Issues? The Badgers have some injury problems in their defensive backs corps; it will be something that the team will know more about in the coming days. Coach Anderson commented that his hope is always to get the best 11 players on the field.
Big And Fast- No surprise, but Wisconsin leans heavily on their tight ends in the passing game.
Around The NCAA
And Finally
What does the fox say? No, really… what does it say?