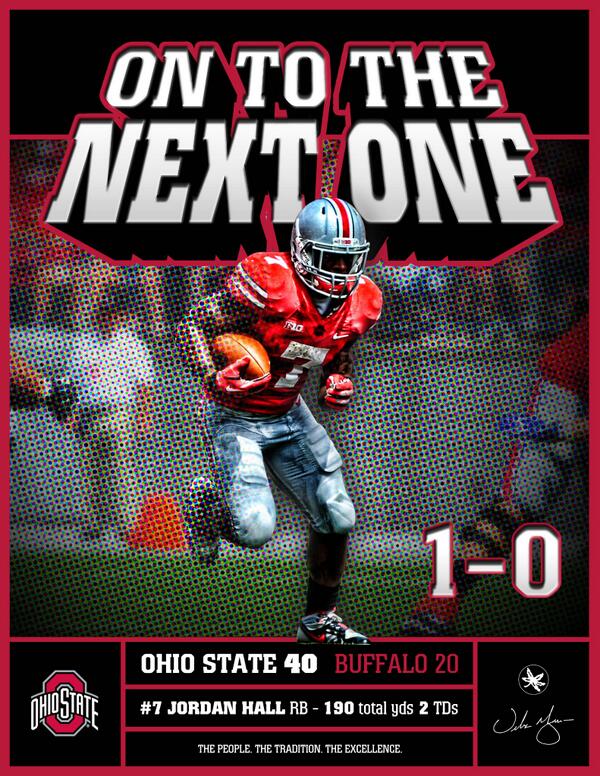 When I first mentioned doing this article and having it every week on game eve, I was truly worried whether or not I would have enough material. The truth is, there's plenty from around the sporting world to fill the good, the bad, and the ugly up to the rim. Let's get started with the first easy part.
Rumblin
Everybody is talking about Jordan Hall's game and in our first effort to get the fan's involved with tBBC Fans Interact:Buffalo he was the Unanimous choice for #BufOMVP 11-1 over QB Braxton Miller. His first long TD run was ton's of fans favorites as well for #BufTopPlay. Hall was rumblin to the tune of 21 carries for 159 yards and two TD's.
What I am surprised nobody is mentioning, unless I have missed it this past week, is what that performance really means to the career of Jordan Hall at Ohio State. In one game, and bear in mind he has been snake bit the entire time he has been here, he almost topped his totals in three of his other seasons.
CAREER STATS
RUSHING
RECEIVING
SEASON
ATT
YDS
AVG
LNG
TD
REC
YDS
AVG
LNG
TD
2013
21
159
7.6
49
2
3
14
4.7
11
0
2012
40
218
5.5
15
1
3
31
10.3
14
0
2011
99
405
4.1
25
2
12
114
9.5
38
3
2010
37
161
4.4
16
2
8
83
10.4
25
1
2009
48
248
5.2
39
1
1
5
5.0
5
0
Look closely and you will see that in one fell swoop he set his new career longest run from scrimmage(49); scored as many TD's(2) as he had in any previous season total, and set the tone for how valuable he will be this season catching the football(3/14 in tough spots). Granted, he will need alot more carries to surpass 99 in a season, which he will do regardless of Hydes return. He will also keep the YPC average up high, he's proven to gain well on each carry.
I for one am very pleased with his first game performance considering he also had one of the best LB's in the college game tracking him down every play. Jordan Hall will have one of those kinds of seasons that only come around every once in a while in Columbus and he may very well be the one to give Coach Meyer his first 1,000 yard rusher that's not a QB.
Stumblin
I got into the discussion with a co-worker this past week about college athletics at the D1 level and how many of the kids making it to that level are truly prepared to handle the rigors of it. I have already touched on the subject in last weeks RSB and referred to some of them not making it so far, with the exception of a couple in Bosa and Wilson.
The argument was centered around how the kids prepare at the high school level using high school facilities and being trained by high school strength coaches. Granted, there are some very nice high school weight facilities around the country. I have seen a few here in WV that are pretty nice for high schools. The bottom line is, they are used by high schools.
There are going to be very few that are prepared to handle the brick wall that they will be running into once they are in the D1 program, let alone the fact that they also now have to learn a play book that is monumental. All they ever really had to know in high school was to go get the guy with the football. There are ton's of them that are very cerebral and know the game as well, but they just have to trust their instincts.
If you look at the career that Curtis Grant has had so far, you have to believe it has been very humbling to him. He is just now in his junior year at a place where he is comfortable with assignment defense. I think Mike Mitchell has hit this same brick wall. There has been a lot of speculation about whats wrong. If there was a serious issue with why he didn't come in and start from day one, we would have heard it by now. Maybe there is a real reason that players like Spielman and Katzenmoyer were able to play right away
Bumblin
I really wanted to avoid talking about players outside of Ohio State in these pieces. Sadly, I am not going to be able to do that this week because I have to finally say my piece about Johnny Football.
I am saddened to a certain extent because when the program lost it's beloved coach and some players along with him, Buckeye Nation endured quite a bit. And now we see articles and crud from Time magazine about, now, it is time to pay the players; I cannot stand it any more.
Whats bad about Johnny Manziel is that he has made a mockery of the Heisman trophy and anyone who has won it previously. And now he has set his sites on the game that we all know and love. I am sure that the unsporting he got was not because of his gesture, he probably said something as well and believes he can do it whenever he likes. I applaud the official that flagged him. In all honesty, they both should have, but I believe the one on the right merely laughed.
What every team that plays him this year should do is remind him just how much they love this game. I don't have a problem with taunting in general. There is alot of smack talking that goes on between college players and it's difficult for those to manage it. What opponents need to do is knock his block off and tell him to keep his mouth shut. Nobody cares anymore that he won the award, let alone who he thinks he is. He has taken care of that himself.
The national media can talk about him in regards to the award again this year, but I guarantee you he will not win it because of all that he has done. People, including his family are embarrassed by him and sadly those national media have put him on national TV this year. I close with the new video that puts it in perspective. If Manziel saw the video, he would definitely try to do it.