It's Thursday, so we're that much closer to gameday… got your juice yet? Hey, here's a song that covers this week's opponent AND the epic end of an amazing series! Double win!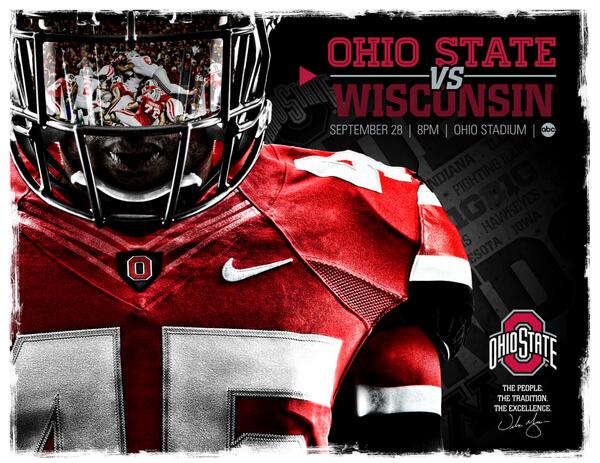 Buckeye 411
Ohhhh! Shiny! Regular readers of this space (hi, honey!) will remember that we pointed out earlier this season that the Buckeyes would be wearing last year's "Rivalry Gear" for a few games this season. When our friends at the Buckeye Room released the new jersey on Monday, we knew that this was a portent of good things to come- Ohio State + Alternate Uniforms + Wisconsin + Night Game = The Awesome. Today, Coach Meyer confirmed that the team would be wearing the "chrome package" against the Badgers, but not until after Sammy Silverman got us ready with the teaser poster you see  above.
Winning- EZE Offensive POTW, Joel Hale and "Pittsburgh" Brown Defensive POTW, and Doran Grant won the accolades for Special Teams Play.
Injury update- After practice today, Coach Meyer commented that Adolphus Washington would be good to play this week against the Badgers, and that Braxton Miller would get the start. This will be the first time that the entire Ohio State "starting lineup" will be available for action… Get ready, B1G.
Wither Smooth Jazz- Coach Meyer said that Guiton will be ready to go when/if needed on Saturday; he's a leader and has always put the team first.
Hasn't Missed A Step- At least, that's the prognosis for Miller according to Bradly Roby.
Oh Yeah, It's Personal- Roby also talked about how the game was an important one for Ohio State, and had what might be the quotes of the day after Wednesday's practice;
When someone takes what's yours, the next time you see them it's going to be a fight.

We know we're the kings. Simple as that. Last question.
Let's Get Physical- We heard that it was "Bloody Tuesday" in practice earlier in the week, as the team gets ready for the challenge of a team that wants to control the trenches. Roby talked about how stopping the run was the first priority for the defense, and something that they relished. Noah Spence also talked about the aggressiveness in practice this week, and how the Silver Bullets know this will be a four quarter fight.
Stay Hydrated- As a night game, you've got to think that cramps won't be a big issue for the Buckeyes on Saturday. But, after reading Wednesday's preview of Sports Illustrated's article on the Buckeyes (This time with no Dohrmann!), you get the sense that water is an important part of the team regimen. Except for Coombs, that is.
Enjoy It While It Lasts- Also in the SI piece; Tom Herman's a hot commodity in coaching circles, being approached by two programs last season. He stayed due to his commitment to Coach Meyer, but it's easy to see the handwriting on the wall.  You know where he'd excel? Texas.
Buckeye Swag- It's a "Scarlet Out" on Saturday, but if you're looking for something new to wear we're excited to announce some great news from our friend Mekka Don. From the press release:
The Ohio State University and it's new single source apparel licensee J. America are set to release a line of "Juice" t-shirts in conjunction with rising Independent Hip Hop Artist, Mekka Don.

The shirts are inspired by Coach Urban Meyer's "Bring the Juice" mantra, and the song, "Juice" that Mekka Don created for the team.  The song has been licensed by Ohio State, is played in the stadium at all home games, and has rapidly become a huge hit within Buckeye Nation.

Mekka Don said, "As an artist I make music to inspire and excite people.  The response and love for "Juice" that Buckeye Nation has shown is truly humbling.  I'm very proud that the University, fans, students, coaches, former players, and current players all have embraced the song the way that they have.  Ohio State holds a very special place for me, and to see a t-shirt I helped create be sold at The Shoe is a dream come true."

DJ Kelley, J. America's sales director adds, "We are very excited to be working with Mekka Don on this great project. We are big fans of his story and his music.  Having recently entered into a multi-year partnership with Ohio State to be its exclusive apparel licensee, it is important for us to capture the spirit of Buckeye Nation, and we believe this release does that."
These t-s are stylish, comfy, and undefeated (At least mine is… 2-0, baby!).  Don's going to be all over the place this weekend- a guest on ABC6, at Eleven Warriors' E2B Event, and at the stadium for gameday… be sure to show him some love!
QB Controversy? While Meyer named Braxton the starter after Wednesday's practice, the buses on campus seem to have other ideas (h/t Doug Lesmerises)
Times, They Are A Changin'
Late Wednesday night, when all of us were getting ready for playoff baseball and prepping for our tailgate adventures, ESPNBigTen had an interesting transcript of comments by Jim Delany regarding the "pay the players" movement:
Jim Delany just talked w/ several of us about pay-for-play debate. Said those who want to go pro should do so right out of high school

"Train at IMG, get agents to invest in your body, get agents to invest in your likeness, and establish it on your own. But don't come here and say, 'We want to be paid $25,000 or $50,000.' Go to the D-League and get it.

"We've been training kids for professional sports. I argue it's the color, I argue it's the institution. If you think it's about you, then talk to John Havlicek about that, talk to Michael Jordan about that. These brands have been built over 100 years."

"You don't have to play for the Redskins or the Bears at 17, but you could develop IMG. There are lots of trainers out there They can get as strong and as fast in that environment as they can in this environment. Plus, they don't have to go to school."

"We can't do Title IX and have professional sports in basketball and football, and have lots of opportunities. It's not going to work. It just doesn't fit. But we should do what we can do, which is kids are full-time students, which means they want to be here."

"Would you rather be in the D-League in the Dakotas or would you rather be playing here? I think some kids would rather be in the D-League. We'd be better off in a lot of cases. We would have less tension about kids who are in school who maybe don't want to be there."

"If the only way is pay-for-play, then the courts will decide that. Congress will have to figure that out…What I'm worried about is get a restructure, get a deal, get an outcome that is more sensible for the 21st century."

"I'm willing to give up the benefit. If there's so much value here, let them handle that value. Let them extract it I think I can be very successful because I think what we offer, for most kids, is superior to what the minor-league experience would be."

"We ought to work awful hard with the NFL and the NBA to create an opportunity for those folks . We have it in baseball, we have it in golf, works pretty good, we have it in golf, we have it in hockey.  Why don't we have it in football, basketball? Why is it our job to be minor leagues for professional sports?"

"Being a full-time student is basic, providing opportunities for women is basic, providing Olympic sports opportunities for men is basic. I don't want to give those things up. Why? Because we're wildly successful in football and basketball?"
Several interesting thoughts here. First, Delany seems to be agreeing with yours truly that a partnership with the NFL/NBA might be the best way to address the issue of amateurism for the major schools. Requirements from the government regarding equal expenditures for women's sports and Ohio State's commitment to the non-revenue opportunities certainly create a challenge that Delany is well aware of.
Second, his comments "why should we sacrifice Olympic sports and women's sports for football and basketball?" and "why should we be the minor leagues for the NFL?" seem to be counter to what we've seen and heard from him over the past few years. While I don't doubt that he's much much smarter than I am, I can't see networks getting excited about broadcasting B1G Sports that don't include the two major sports… and, as we've discussed, TV revenue is one of the key aspects of continual growth. So, how might this "semi-pro" thing work in affiliation with the Universities- is there a way to have your cake ("college football" and revenue for minor sports) and eat it too (honor a semi-pro model and a return to amateurism).
With all the news surrounding a possible new coach in Austin, I think that one place that the "how do we pay the athletes?" money might come from could be coaching salaries. The Ol' Ball Coach referred to this himself a year or so ago- most coaches in the top 20 programs could take a million dollar "hit" to their payday and still be able to live comfortably while freeing up funding for student athletes. But which ones would receive it?
The "All Players United" movement is an interesting one, as it seeks to create a "labor agreement" of sorts for student athletes. As our friend Twist pointed out, it's no surprise that some athletes would support this, the revenue generated by the "stars" would be shared even with the "scrubs". I'm not sure Tea Party fans would be all that excited about that.
Delany's comments about restructuring needing to be finalized before spring are telling, particularly given the move to a playoff starting next year and whispers of a "Division 4″ model being on the horizon… Never a dull moment, even when some of the least exciting people on the planet are involved.
Missing You

Well, it's now the end of September, and for the first time in a long while there's not a September Heisman trophy to put in Schembechler Hall. Heck, if they gave one to Gardner, he'd probably just fumble it or something.
So, in the spirit of friendly rivalry, let's honor NFL Legend Denard Robinson's legacy… of being the irrational muse for fans of the Sun and Blue:
Around The NCAA
And Finally
Rumor has it that Ken talks this way most of the time now that he's joined twitter: