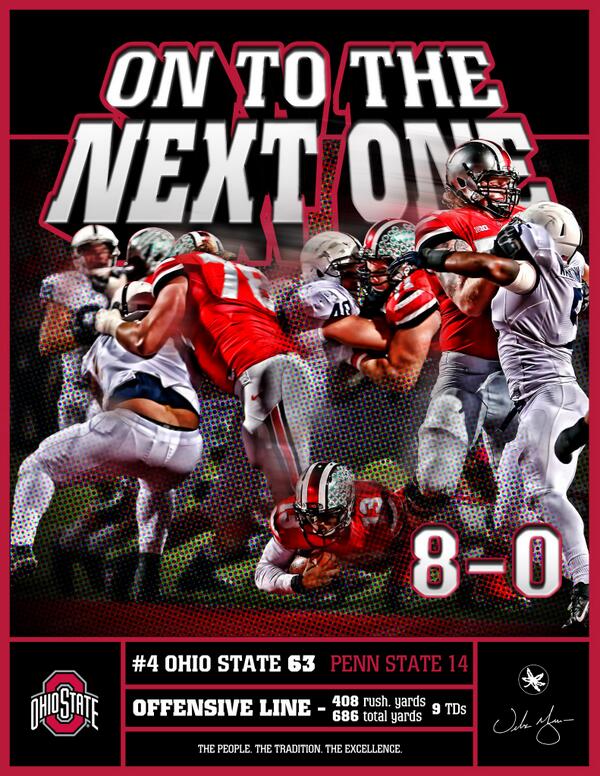 It's a one game season, and the Boilermakers are in the sights
Champs-players that graded out as Champions on offense were Corey Linsley, Marcus Hall (who should be wanted for assault after the pancake block he made late in the game Saturday), both tight ends Jeff Heuerman and Nick Vannett, and wide receivers Evan Spencer, Chris Fields and Devin Smith. Carlos Hyde and Jack Mewhort were named Co-Offensive players of the game. Defensive champs were Linebacker Ryan Shazier and Doran Grant.
Cowboy Up- Braxton Miller again displayed his incredible athleticism last Saturday against Penn State. Miller was 18 for 24 for 252 yards and rushed 11 times for 68 yards and and two touchdowns. It's safe to say Miller is becoming more comfortable in his role as a duel threat quarterback. In the press conference Monday Urban Meyer praised Miller's level of play but mentioned he could definitely improve in a few areas. Coach Meyer mentioned that Braxton Cowboy-ed a few times out there saturday. which according to Meyer means "braxton paniced a few times when he didn't need to panic". Although Braxton's panic mode is like trying to bring down a 2 ton bull, Meyer still wants to see Miller be more aware of where his check downs are once the pocket breaks down.
Injury Update- Most of the injured Buckeyes from Saturday were merely dinged up. Unfortunately, that's not the case for Glenville's De'van Bogard, who suffered a torn ACL for the second straight season. A special teams stalwart, Bogard's loss will be one that the team feels, although reports are that he's in good spirits given the circumstances.
What's Your Beef?- Dontre Wilson got some pretty notable touches in the matchup against Penn State. Coach Meyer commented that Dontre is a great practice player and that he's put on about 15lbs of muscle since he's been with Ohio State. Coach Meyer mentioned he noticed Dontre coming together as a complete player and was blocking more effectively. I personally think he could use another 15lbs at least without compromising his speed. The rookie was awarded the B1G Freshman of the Week award for his work against the Nittany Lions
The "L" Word- When asked if he remembers what losing felt like, Urban Meyer simply replied, "Do I still have it? Yeah, I mean I just want to avoid it at all costs."
Pur-dont- Coach Meyer mentioned that the Boilermaker defense switched mid-season from a 4-3 defense to a 3-4. Coach Meyer suggested that it has to do with some scheming and personnel issues. It could be that the Boilermakers are gearing up for what appears to be a run heavy Buckeye offense. Good Luck with that Coach Hazel.