Well we move on from THE game to the B1G game.  Let's see what our staff has in store for us this week: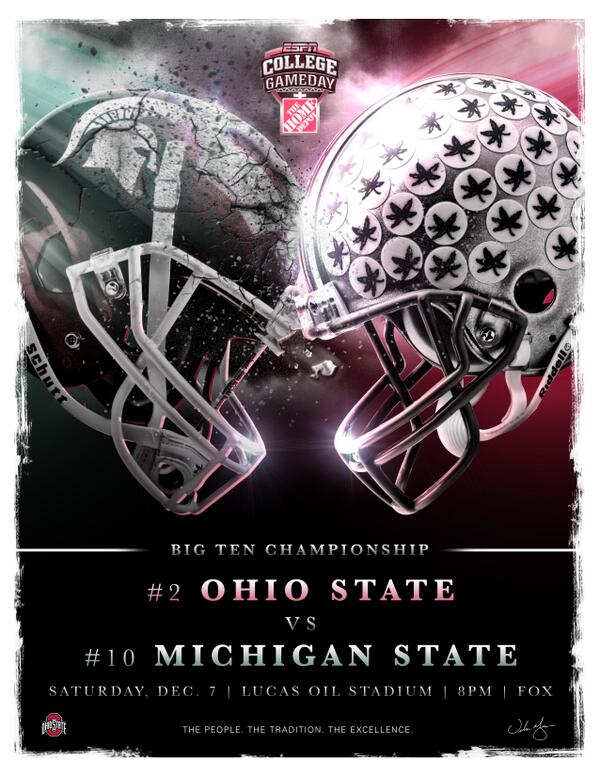 Ken
Offense - Mistake-free (turnovers/penalties) game. MSU brings as good a defense as you'll find; points will be hard to come by.
Offense (again) - An efficient passing day from Brax & his receivers. If OSU is forced to go one dimensional against MSU, trouble looms.
Defense - Please, no missed tackles.
Defense (again) -  Pressure MSU's QB; sacks, hits, pressure, I don't care, just get to him.
No injuries
A WIN!
Scott
A win
No turnovers - Don't help them.
Solid defense - Spartan offense is inconsistent. Good defense will be sufficient.
WvaBuckeye
CARLOS CARLOS CARLOS - I know I know. I'm a broken record but is anybody really paying attention to what he's doing in an abbreviated season? This is HIS team. He's taken it. Let him and the line prove it against the best rushing D. 100+ a game continues.
DEFENSE WINS CHAMPIONSHIPS??? It's not high powered but the D cannot make their QB better than he is. I want to see a swarming D like we saw Saturday for a short while.
OFFENSE WINS CHAMPIONSHIPS!!!!  This offense is obliterating the records of the former best two from '98 and '95 and needs to expose the lack of talent on the Sparty D. Might have to actually go away from the power running game up the gut to do so. That's where Sparty is VERY good.
SPECIAL TEAMS - They've been quiet for a few weeks save for the leg of the Aussie punter. Need a huge play by someone. Jordan Hall is due.
MaliBuckeye
Non-Offensive Score- I firmly believe that if Ohio State gets a pick-6 or a special teams touchdown, they will win the game. Take some of the pressure off of the offense with a spectacular play
Two In A Row? We didn't have any "you know whats" in last week's game… I love repetition.
Silence The Doubters- Whether it's the tarnish on the Silver Bullets or the two offensive players who got an early exit in Ann Arbor, a lot of folks have something to prove over and above the usual expectations. Play at a high level, gentlemen.
The Air In There- A lot of criticism of Braxton's passing against Illinois and the Wolverines- his ability to work the underneath routes to the tight ends and slot receivers will open up a lot of the Buckeye offense in Indy.
Do Your Job- When Ohio State's defense has had mental lapses on defense, it's often been due to players trying to do too much.  Remember your assignments, get in the right position, and make the play. Rinse and repeat.
Patrick
Defense show up – National stage and all kinds of questions. SEC game will be over by 8 and all eyes will be on OSU. Everyone knows about the offense, time for the D to show up.
Carlos Hyde - 25 -30 carries. Wear the defense out. You don't have to play for a month, ride the big fellow.
Flawless execution on offense – No more of these crappy under/over throws and stupid penalties.
Thrashing – An outright thrashing of MSU.  Period!
Charles
No mistakes on offense - MSU's defense is by far the best we've faced all season and we can't afford to make any mistakes as they will take advantage of it.
Give Hyde the ball - MSU's secondary is very good but Nebraska showed that you can pick up yards on the ground up the middle so give Hyde the ball and let him do what he does best.
Use play action to keep MSU honest - After establishing Hyde, mix in some play action to take advantage of the Spartan defense keying on the run.
Defense showing up – MSU's offense hasn't set the world on fire this season, mostly alternating between anemic and pretty good; of course the OSU defense has also been inconsistent as well.  The Buckeyes need a solid defensive effort in this one as MSU will keep the OSU offense below its normal numbers.
Be ready for the trick play – We all know that Dantonio has one coming.
Dexter
Carlos Hyde to 3000 - He only need 33 yards to get there for his career, but I'm excited to see what he can do against this State Front Line.
Pass Attack - Would like to see well over 250 yards in the air to pressure this State D.
Defend the Trick Play - What does Marky Mark have up his sleeve this time? Who knows — but let's contain it!
Check back on Monday to see if our Buckeyes (and our staff) are packing our bags for Pasadena!