Welp, here we are Buckaroos… the Basket Bucks and Football version both have two game losing streaks. Nevertheless, there's great things happening in Columbus…. give this a listen as we dive right in.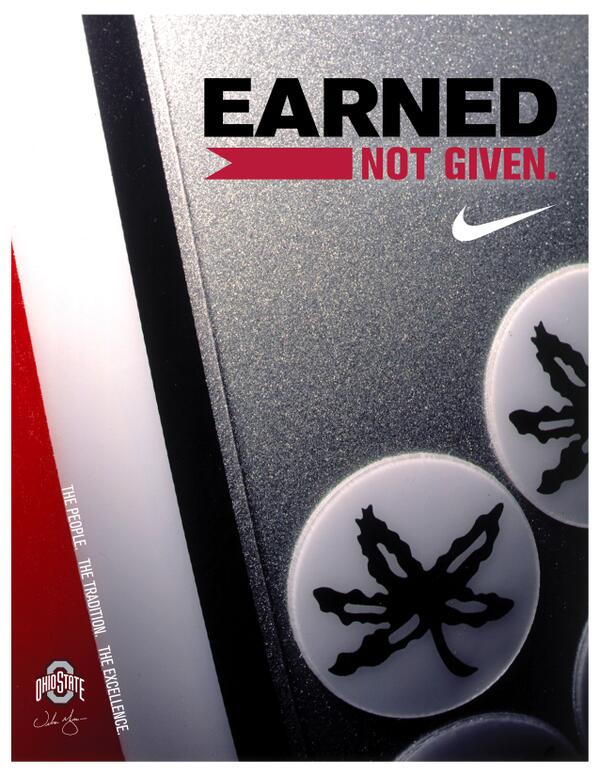 Buckeye 411
Choose Wisely- Amidst the chaos of the past week or so in Ohio State shootyhoops, it might be easy to miss that Aaron Craft (swoon) has been named a finalist for the Wooden Cup, a great award that recognizes on and off court performance and certainly doesn't look anything at all like I thought it might.
n00bs- Ohio State welcomed seven new Buckeyes earlier this month, as the January enrollees began their steps toward their scarlet and gray legacies.  So, it's now officially OK to start getting excited about QB Stephen Collier, LB Raekwon McMillan, OL Kyle Trout, OL Marcelys Jones, WR/DB Curtis Samuel, K Sean Nuernberger, and WR Johnnie Dixon
Coaching Hires- The biggest news on Tuesday was the conclusion of the Ohio State coaching searches, with both defensive positions being filled within a 12 hour period. (Technically, they can't be filled until posted for a certain amount of time, but it's all but done). Monday night, whispers started that former Penn State defensive line coach Larry Johnson Sr. had been approached by Ohio State to fill the position left when Coach Vrable left to join the Houston Texans. "Approached" soon turned into "All but accepted", and by Tuesday it was all but considered as a sure thing. This was solidified around lunchtime, when the news then broke that Ohio State had found their defensive coordinator, former Arkansas and Wisconsin defensive coordinator Chris Ash (who also worked with Tom Herman at Iowa State and Brady Hoke in San Diego).  After the jump, we'll give you a chance to get to know these new fellers a bit more, but for now- Welcome to Buckeye Nation!
More Coaching Options? With all of the shuffling around, it was interesting to hear that Jim Caldwell, former head coach of the Indianapolis Colts had been tabbed as the new leader for the Detroit Lions.  What made it especially unique was the possibility that he might bring former Buckeye coach Jim Tressel along with him… which certainly makes sense, given their brief relationship with the Colts and the obvious other reason. Alas, it looks like the possibility may have just been wishful thinking on the part of Buckeye fans wanting to troll that state up north.
Still Crankin' Out The Hits- Even though it's the off-season, Ohio State's Sammy Silverman brings great visual reminders of Buckeye excellence, including our header photograph and this great gem:
Commentary- New coaches
So, let's get to know the newest members of the Buckeye defensive coaching staff, shall we?
Coach Chris Ash will be either the co-defensive coordinator or the defensive coordinator, depending on who you listen to. There's a lot of "Co's" on Urban Meyer's staff. While we don't know specifically how he and Coach Fickell will co-exist in terms of game prep and gameday calls, we do know that Ash will be the Buckeye secondary coach; which creates a bit of confusion for our favorite Red-Bull advocate and special teams guru.  I'm certain this will all be addressed officially very soon.
As we said earlier, Ash was at Iowa State and Wisconsin prior to following Bert to Arkansas. He prefers an aggressive, attacking defensive gameplan, and excelled as such at Wisconsin. Remember the 2012 overtime win where the Buckeye offense ground to a halt in Madison? Coach Ash's gameplan with aggressive safety play built the foundation for your and Coach Herman's momentary ulcers on that night.
If you're into coaching clinic speak, check out this film of Coach Ash discussing how to attack offenses that rely heavily on quarterbacks and the read option (sound familiar?). Or, here's a look at an older clinic talk on his perspective on the Tampa 2 look.
Coach Johnson, on the other hand, should be very familiar to Ohio State faithful. A longstanding member of the Penn State defensive staff, it has been his guidance that's shaped a considerable foe for Buckeye offensive efforts over that time.  While the Lions consider themselves "linebacker U" (and wrongfully so), I'd argue that it was the play of their front four that allowed the backers to run free(er).
Johnson has also been seen as an anchor to the Paterno era for Coach O'Brien's tenure as well, and is one of the best recruiters in the country. An excellent high school coach on the east coast before joining the Happy Valley staff, Coach Johnson's transition to Columbus has been widely praised by recruits and grieved by folks at BWI.
Here's his visit with the BTN staff, where he talks about his philosophy for on and off field success:
Again, the details haven't been fully announced, and it wasn't exactly the home run hires that many of us were hoping for… but that doesn't mean that it still didn't clear the wall in deep center field.
Coach Ash, Coach Johnson… Welcome.
Around The NCAA This week is the NCAA convention out here in San Diego, and there are expected to be a number of large changes discussed, including the possibility of carving out the largest football programs for a separate division with different (more realistic?) rules?
Jeff Svoboda at Scout did a great job sitting down with Gene Smith to preview some of the changes that might be on the table this week. Cost of attendance stipends for student athletes, structural changes… listen closely to any news that comes out of the meetings this week- it will shape the future of the sport.
Other Programs
Nope. No Conflict Of Interest There- Well, I never… ESPN was working with the ACC to steal teams from the B1G? Huh.
Coaching Changes- Congratulations to Penn State, who hired James Franklin as their newest head coach.  Great hire, dynamic personality, and might just be a bit overpaid at this point.  Congrats, too, to Lane Kiffen's agent who managed to get his client yet another cushy gig that he can't possibly screw up until he does.
And Then There's This- God, I hope that this is a fake.  Please someone tell me it's fake…
As Bad As The "Pro-Combat" Uniforms Can Be- They'll never be "yellow Michigan jersey" bad.
Look- When teams are running from adidas to the people who do things like this, it's time for our German friends to re-evaluate their sense of style.
"Passing The Savings Onto You!"- Tiered pricing is the new norm across the B1G, and Happy Valley is the latest place to see this "opportunity".  You can bet that the Ohio State tickets for next season will be around $200 or so… although, I thought the idea was to get more people at games?
And Finally
But…. how will Tom Crean know when it's OK to cut the nets down??