Well, given the news today in college sports and elsewhere, I think I've got a couple of soundtrack offerings that will draw it all together.  Stay warm people!! (it's supposed to be down to the 60s in Los Angeles today… brrrrrrr.)
Buckeye 411
Chosen Frozen- We've got to give major kudos to Buckeye coach Tom Herman, who was stuck for 12 hours in the Atlanta Traffic crapstorm following their epic blizzard of about one inch or so of snow.  Seriously, I guess the folks in the Snow Emergency Conference are in need of someone from the north to show them how to deal with the cold.
RE: Crootin'- Last time we chatted, it was Demetrius Knox that had Buckeye Nation wringing their hands in worry of a last minute exodus from #TheDream14. That was addressed by Coach Meyer and Coach Johnson, and 'Meech is fully locked and loaded once again.  Now, though, we've got another offensive lineman who may be wavering, this time Illinois' Jamarco Jones who is reconsidering his choice of Ohio State over the Spartans from East Lansing. Jones, who has several friends headed to Sparty in the fall, has his official "in home" from Dantonio and staff today, with Ohio State's Warriner and Johnson following up tomorrow.  Jeremy Birmingham at Eleven Warriors has the best overview of the situation, and it will definitely be worth watching… if Jones heads to East Lansing this weekend for his "official", then I think the writing is on the wall.
Four! More! Years? Well, if you're not a fan of current Athletic Director Gene Smith, this won't make you happy: It was announced today that he's been promoted to Vice President and given a contract extension/raise.  Hooray?
Final Visit, Final Answer? Also of note this last weekend of "recruiting season 2014″ is that H-Back David Njoku will be in Columbus on an official visit, as will Michigan defensive lineman standout (and one time Wolverine "lock") Malik McDowell.  Again, Birm's got the latest.
Presidential News? Rumors on Tuesday began swirling (I think they started on Scout, but I saw it on twitter and other OSU boards) that The Ohio State University would soon be naming Michael Drake as their next President. Drake currently serves as the Chancellor at the University of California at Irvine, and is notable for his work with the health sciences within the UC system.  Given the significance of Ohio State's medical centers, that may be an important skill set to bring to the table. Even though he's currently an Anteater, there's hope that Mr. Drake can bring something else to Columbus with him…
This Week In Silverman- Another great design from Ohio State's master of visual excitement: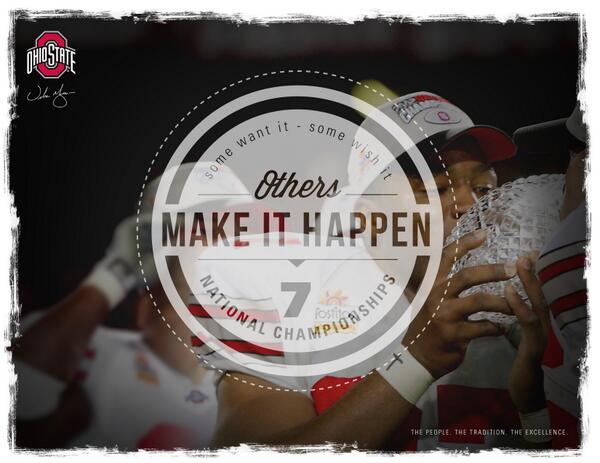 Commentary: State Of The Union?
We've talked before in this space about the All Players United movement that was a part of last season's news, particularly with students at Northwestern and Georgia Tech.
Today, that "movement" got a bit more serious, as a large number of Northwestern Wildcats (at least 30%) moved to form and join a union entitled the National College Players Association. The announcement was made by Wildcat quarterback Kain Colter in a press conference with his legal counsel Ramogi Huma.
This idea has been coming for a while now; with the coverage of the amount of revenue made by many institutions and the national dialogue regarding concussions and long term health impacts, it seems to reason that discussions of equity would not be far behind. We also saw ripples of this in the O'Bannon suit against the NCAA and EA Sports- student athletes were tired of being excluded from a stream of revenue made by their efforts.
Heck, even the term "student athlete" hints at the history of this situation; as you remember, it was created to help the NCAA avoid workman's compensation claims by players.
And, in reading the work of the NCPA, it seems as if workman's comp may be at the heart of the movement. Colter and others have emphasized that this is not about financial issues, but instead hoping to create protection for health issues that might arise after a student's graduation. Players are often well covered during their time within a program, but following that things can get murky. And, it seems as if this moment might have been avoided altogether if the NCAA had been willing to even have discussions with stakeholders rather than holding too tightly to their firm line.
The NCAA has responded, as you would expect, and this case will move forward toward a key set of decisions that may change the very face of intercollegiate sports.
There are still lots of questions to be decided, even if this union is allowed to form.  In the statement today, the implication was that this "would not apply to public universities, which are governed by state laws". If true, what would happen in states with "right to work" laws?  Would this eventually become a private/public situation similar to what we see within the OHSAA?
Also, given that only 1.7% of college players end up going pro across all three divisions, would this union extend to all football players? Would it be expanded to other sports- including Title IX required women's initiatives? This thread over at ShaggyBevo has numerous other considerations that are still outstanding… it's going to be a lot more complicated than just "death to the NCAA".
But we're living in interesting times- discussions of Division 4, unionization, player rights in regards to their likenesses… the dialogue involved here, even if none of the options come to fruition, will likely mean that change will be significant in the near future.
Just A Reminder: Mekka Don is amazing, and you can help him move to the next phase of his journey!
Commentary: Off The Field, A Tale Of Two "M"s

Sometimes, stories around college sports are more heartbreaking than just losses.
That's been the case this week, as two programs struggled to deal with allegations of sexual assault involving students who are members of their athletic programs.
First, ESPN ran a story on the tragic suicide of a Missouri Tigers' women's swim team member; a suicide that was impacted, it seems, by her alleged sexual assault by a member of the Tigers' football team.
Then Tuesday it was announced that the University of Michigan had dismissed/expelled former punter Brendan Gibbons for his involvement in an alleged sexual assault, a story that we've highlighted in this space before.
On the surface, both of these tragic situations have some similarities: University officials in both cases seemingly didn't appropriately deal with allegations of sexual assault. Looking closer, though, we see what appears to be a significant difference.
In the Missouri case, the University alleges that it was not made aware of the possible sexual assault until after the swimmer's unfortunate death.  At that time, they say that they reached out to her parents to explore the possibility of further investigation, but didn't receive indication that this was a path the parents wanted to pursue. Local law enforcement is now looking more closely at this case.
What may have impacted this matter for Missouri is the fact that there are conflicting guidelines involved in these types of situations. The incident in question was reported to health care professionals, but their HIPAA guidelines state that it was improper to report it to administration or law enforcement without the survivor's consent to do so. Reporting is directed by the Clery Act, and only requires indication of the number and type of incident, not the specificity if the survivor wishes to remain anonymous or not pursue further action.
In the Michigan situation, if the earlier reports are to be believed, the situation is much more murky. According to the documents within the report, the University was made aware of the situation soon after it occurred, and began an investigation into the situation. Federal Title IX guidelines mandate that all sexual assault investigations be concluded within 60 days of the initial report, so the four year delay in Gibbons' sanctioning is extremely troubling.
And it's troubling for the Maize and Blue faithful as well… this is not a pretty situation, and I don't comment on it as a moment of schadenfreude. Instead, as we look at both of these cases and the earlier one involving Jameis Winston, I am concerned about several things that transcend team loyalties.
As some of you may know, my "real life" job requires me to be involved in supporting students and investigating these types of incidents; I have training in Title IX investigations, and serve in that capacity more frequently than I care to.  As such, I continue to be heartbroken when students find themselves in situations such as those reported above. I am all too aware of the prevalence of alcohol as mitigating factor in good decision making, of cultural norms and expectations regarding the "college experience", and of other things that limit honest dialogue regarding appropriate and healthy sexual expression.
And, like their peers, athletes in college are developing; some are immature, some struggle with appropriate ways to manage relationships, some are looking for friendships and partnerships that might end up being unhealthy. Unlike their classmates, though many athletes also have the pressure that comes with privilege- it's not easy being the big woman or man on campus, and the stakes are significantly greater at universities where athletics have higher profiles.
We talk about the educational significance of college athletics, and I believe firmly that these types of conversations are ones that coaches and mentors and support staff are able to have more deeply than perhaps the "typical" student might receive. There's a lot of discussion about character development with the students who are on varsity teams; it's important that this is taken seriously in ways that transcend baskets scored or service points.
Because, in the long run, the things that happen away from the court/field/track/rink/diamond are infinitely more important than anything that shows up in a box score.
Across The NCAA
Big Shoes To Fill? Well, Rutgers seems to have found the right man for that job.
Math? Who Needs Math? In case you're paying attention (unlike the NCAA or SEC/ACC), we're on a pace to see a number of schools blow past both their roster limits and the toothless boundaries that conferences has put on their recruiting efforts. NC State has 30 verbals heading into next week while conference mate Florida State currently holds 28. Tennessee is looking at 34 (!), and Alabama may have more than 24, in spite of only having 18 available slots. Wonder how a Union might address their members being "roster managed" in this way?
And Finally
Sure, it's cold in Ohio now, but that's not going to last.  There's plenty of time to plan a great trip to the West Coast for a leisurely stroll: