When Penn State was rocked by arguably the biggest scandal in college sports in 2011, they one thing on most B1G football fans minds was, who will be the guy to lead PSU through this dark time. Many names were tossed about and when the dust settled, they landed on a little know NFL assistant named Bill O'Brien.
O'Brien had no ties to Penn State and had no head coaching experience at the top level of college football. He had a knack for developing quarterbacks and designing great offensive game plans. His passion and desire for football quickly won over most of the PSU faithful, although many in the college football world wondered aloud how long O'Brien would stay at PSU.
Some felt he would bolt for the NFL once a good opportunity arose and others felt he would use PSU as a stepping stone to a bigger named school. Over the course of his two year tenure, his name would come up when any top job became available. Texas, USC, Auburn, the Cleveland Browns and the Kansas City Chiefs were just a few over the past two years that O'Brien was linked too.
O'Brien received a raise and contract extension after his first season in Happy Valley and went as far as telling an Orlando Sentinel reporter after the 2012 season,
"The players who are here now and the guys who were here last year could've gone anywhere…They didn't have to stay at Penn State, but they committed to each other, they committed to Penn State, and they committed to our coaching staff. I felt it was important that they understood that I was committed to them. What are you if you're not a man of your word?"
Many of the PSU faithful took solace in that quote that O'Brien would be the guy to guide them through the last two years of their probation and return them to top of the college football mountain.
THEN……..it happened.
News broke that O'Brien had taken the job to become the head coach of the Houston Texans. Almost all of the die hard PSU fans were shocked: It was a matter of weeks before signing day, PSU was coming off a season in which they had the B1G freshman of the year in Christian Hackenberg, and fans were starting to see the light at the end of the tunnel.
The domino effects of O'Brien leaving were massive. The coaching search seemed to center around two guys, former PSU player and current Miami Hurricanes head coach Al Golden and Vanderbilt head coach, James Franklin. Golden had a squeaky clean reputation and had just led the U through their own scandal and seemed to be the perfect fit.
What James Franklin had done at Vandy was nothing short of a miracle. He turned around the Commodores to become a factor in the mighty SEC. As for his reputation, well, that was less than squeaky clean. Franklin had also dealt with a unfortunate scandal in which there were those who believed he might have covered up for four of his former players. He was eventually cleared of all concerns.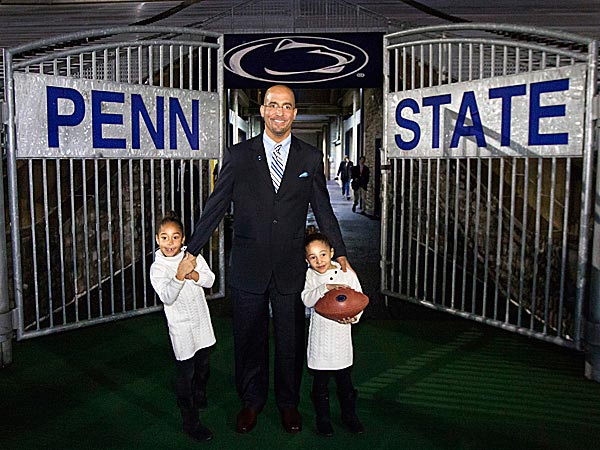 Franklin is the guy PSU ultimately went with and in possibly the most shocking of the last dominoes to fall, Larry Johnson Sr. turned down a position on Franklin's staff to leave and take a similar position at Ohio State with Urban Meyer. The Buckeyes had just lost DL coach Mike Vrabel and couldn't have asked for a better replacement than Johnson. This move left a lot of PSU fans scratching their heads-Why would a guy who had spent the last 13 years in Happy Valley turn down a position on the new coaches staff and take off to join a rival!?
To answer this question and several others, I had the opportunity to chat with Ben Jones who covers PSU football for www.statecollege.com.
What has been the general reaction to the James Franklin hire?
I think everyone has been excited about what he brings to the table for Penn State. Fans understand that he's a high energy guy that turned a Vanderbilt program into something that it hadn't ever been before. So I think people are generally interested to see what he can do at Penn State on and off the field. Some people wanted Penn State to hire Al Golden, but even they are for the most part excited to have Franklin in the fold.
The backlash from Vanderbilt has been enormous, has that had an impact on the PSU community?
I think there is a certain irony about how excited fans have been for him to come to Penn State and mad at O'Brien for doing the exact opposite, but for the most part Vanderbilt fans being upset hasn't impacted anything here.
James Franklin no doubt brings some "baggage" with him from Vandy, regarding the alleged rape cover up of last season, has that been an issue or been discussed in and around State College?
There has been some concern about how that could play out down the road. But at the end of the day I think fans trust that Penn State did a good job vetting Franklin as best they could. If something comes up they'll have to address the issue, but generally speaking people are concerned but are going to give him a chance to prove his worth so to speak. It isn't ideal, but I think people are giving him the benefit of the doubt for now.
From a football standpoint, what do you feel will change for PSU in 2014 with Franklin at the helm? We know Hack will be back, do you feel his progression under Franklin will not progress like it would've under BoB?
Hackenberg will be back, and Franklin's plans to run a pro-style offense will help both of them grow. Hackenberg won't get the same kind of coaching he would have gotten under O'Brien but as long as he continues to work I don't think he's progression will be that noticeable in terms of slowing down. Transition periods always have their challenges though.
What is the feeling now after Coach O'Brien is finally gone?
People are becoming more appreciative. Penn State is better now than it was when he got to town and I think at the end of the day that's all you can ask of from a coach.
We know Al Golden was on campus, how close was he to taking the job and why do you think he chose not to?
Actually, Penn State visited Golden rather than what was reported otherwise. Golden would have taken the job but it was never offered to him. In fact, Penn State only told Golden that he wasn't going to be offered the job two days before Franklin was announced. Golden's statements had more to do with saving face with Miami than anything else.
Onto LJ… Do you find it curious that Larry Johnson chose to leave PSU after Franklin's arrival even after being offered a job on his staff?
Not really, I think LJ wanted to be a head coach or a coordinator. He wasn't going to get a chance to do that at Penn State and wasn't up for another transition period I don't think. Johnson would have stayed for recruiting more than Franklin wanting him on the staff, I think Johnson knew that and opted to take his talents to somewhere he would be valued a little bit more.
What was the response amongst the PSU faithful to not only LJ's departure, but going one step further and landing a prominent job on Urban Meyer's staff at Ohio State?
There is some obvious anger there, maybe not at Johnson as much as the situation. Any time a longtime coach leaves for a rival it's going to make people upset. I think for the most part though people understand it was a career move and they appreciate what he had done for Penn State for so long. In that light people are happy for him.
You and I discussed back in August that the B1G's future sustainability and success could lie solely on how PSU comes through after probation and we know what path they seemed to be on with BoB, do you think w Franklin that they can maintain and build on said path?
Between the sanctions being reduced and a possible lift of the bowl ban Penn State is in better shape than anyone may have thought. Penn State may not be in as good of shape as it was heading into the sanctions but I don't think the drop off is that great. If Franklin can recruit and coach as well as he sells himself, there is no reason Penn State can't be "back" like it was in the mid 2000s. Maybe not Top 10 teams in the next 4 years, but much more of a threat in the conference. That may have more to do with Hackenberg than Franklin though.
Your thoughts on Franklin bringing his recruits with him from Vandy and also yanking some offers from PSU commits?
I think it's all a part of the process. A kid wants to play for Franklin and he's going to follow them. Recruiting is an ugly animal and I think Franklin didn't do anything that any other coach hasn't already done. Nice? Maybe not. But I don't think it's cause for any kind of uproar.
Lastly, look into your crystal ball and tell me what the 2014 season looks like with James Franklin as head coach.
In theory Penn State is a less talented team this year than last year. 7+ wins is probably reasonable, but anything guessing higher than that will depend on factors that we won't know about until they happen.
I went on to ask Ben why he thought PSU didn't offer Golden the job; "I believe Franklin was their top target and unless they couldn't land him nobody else was going to get an offer until they knew that they couldn't land Franklin."
2014 will be another new dawn in Happy Valley. PSU fans hope they now have the guy who will lead them long term and not burn them the way they feel O'brien did.
Thanks again to Ben for contributing to this story and make sure to check out his work and follow him on twitter, @Ben_Jones88.