We lost a great one on Monday, and another iconic figure on Tuesday.  Today's soundtrack hopes that these guys are both on a better path, if you can dig it.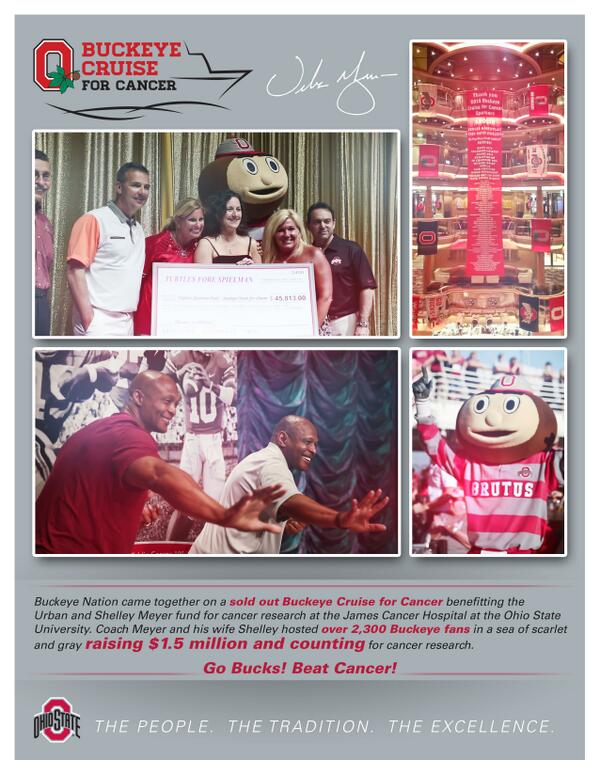 Buckeye 411
Birthday Wishes- Belated, sure, but happy birthday to Aaron Craft and Michael Bennett… I'd love to be a fly on the wall for a combined party for those guys.
They Can't Thrive at 55- Interesting article in Tuesday's CPD, talking about Ohio State's numbers problem with injuries, transfers, redshirts, etc.  And they still couldn't get Mike Mitchell on the field? *sigh*
Combined Excellence- The "big show" in Indy this past week saw the Scarlet and Gray represented well. Ryan Shazier set the bar (at a heavier weight) for the vertical jump, and Bradley Roby ran a sizzling 4.39 40 yard dash.  Carlos Hyde struggled in the lifting measures and pulled a hamstring on his 40, Corey Brown's unofficial 4.37 40 was exciting for Ohio State fans to watch, and Corey Linsley managed 36 reps on the bench test, which was among the best at his position.
More Roby- B-Rad made news earlier in the week when he acknowledged not working as hard during his early season suspension, which cost him on the field (in his opinion). He also talked some about his belief that football players at major programs should see financial compensation, and compared his last two seasons to being an NFL-like experience.
Gettin' Paid- Along those same lines, several former Buckeyes weighed in on the idea of college players getting compensated. Kirk Herbstreit spoke about the immeasurable intangibles of an Ohio State/College experience, while Robert Smith and Joey Galloway took positions that seemed to support the players' cause.  Our friend Jeff Svoboda also got Urban Meyer's take on the matter... really interesting reading, given where this seems to be headed.
REALLY Gettin' Paid- All of these comments were part of the Buckeye Cruise For Cancer, which managed to raise $1.5 million for a number of cancer-related charities and arenas at Ohio State.  Given the amount of pasty white midwesterners on a cruise ship that we're talking about, I'm hoping that research for squamous cell carcinoma will also be addressed. "$1.5 mill? That's cute." say PSU's amazing Thon students…
Gettin' Ray'd- Oh, Ray… we had such higher hopes for you.  Well, maybe "higher" was a poor choice of verbiage there.
Friday Night Lights? While Ohio State hasn't weighed in as of yet, the conference's leadership is exploring football on Friday Nights in the future.  I hate it, and hope that it never happens, but I understand it: more programs need exposure, BTN needs content.  The problem, as I see it, is that this continues to push fans toward television as their primary resource for the sport at a time where attendance is waning and Universities need butts in the seats to pay the bills.
Dy-NASTY! Quick, what Ohio State team has not lost a conference contest in nine years? Yup, your NCAA Indoor Champion Tennis program… that's a lot of net-jumping.
The BEST Damn Band In The Land Lends A Hand- If you're most known for this, you've got to appreciate the help of the folks known for this:
Around The NCAA

TTUN Making Friends- On Tuesday, we had our speculations justified as it was disclosed that the Federal Department of Education's Office of Civil Rights would be looking into the Brendan Gibbons situation in Ann Arbor.  As we've talked about in this space before, on the surface there seem to be a ton of areas where Michigan missed the federal mandates for appropriate process in this situation, so it will be interesting to monitor what becomes of this.
Even Worse- There were students protesting this situation on campus as well, even naming Brady Hoke as being a key figure in the cover up.  From experience, I can tell you that this is the type of thing that happens when you intentionally seek to limit the access of the student journalists who work at the school paper (you know, the ones that broke the story).
Next Up? With Brady on a hotter than hot seat, you've got to think that there haven't already been a few phone calls made to the Bay Area.
Something About That State- Well, at least the Wolverines aren't alone- little B1G Brother is getting a visit from the Department of Education as well, although it's unclear if it's related at all to the athletic program. It could just be that the DoE folks got a free week at the Detroit LaQuinta, and decided to pop over to East Lansing while they were in the area.
If You're Keeping Count- That's three B1G East schools making friends with the Department of Education, including Penn State's ongoing Clery Act investigation as a part of the Sandusky debacle.
Getting Paid- While we debate whether or not athletes need to be compensated in addition to their scholarships and such, MSU's Mark Dantonio got a raise to $3.64 million a year for his work as the head man in Sparta. Coordinator Pat Narduzzi will be making $904K, the most of any assistant in the B1G.  Meanwhile, Indiana's defensive coordinator just got a new waffle-maker.
Good Luck, Bert- Arkansas gets to play all 8 of the 2013 bowl eligible SEC teams this coming year. Leadership, they haz it.
It's All Relative- Especially in Louisville… which must be applying for admission into the SEC or something.
And Finally
Well, it's Oscar Season again… here's one take on a contender: