Well, not really- it's still sunny and eighty degrees here in California. But our Ohio (and TSUN and Buffalo) readers certainly could use a break from all of the snow and ice, and might enjoy a trip to some warmer climes. So, perhaps we can celebrate Ohio State's break with a soundtrack that will encourage and enlighten your Winter Wednesday.
Buckeye 411
Meaningful Awards- For the first time in a long time, no Buckeyes were named to either the coaches' or media's All B1G Team for men's shootyhoops this year, which pretty much sums up what most of us have observed this season. Even All-Swoon leader Aaron Craft was second team with the press and third team with the coaches, where he joined LaQuinton Ross as well. Lenzelle was on the "sportsmanship" list, so that's nice.
Getting Defensive- Senior Craft, though, was awarded his second "B1G Defensive Player of the Year" accolades on Monday… perhaps that's why the coaches didn't have him on the first or second teams, as he spent much of the year making their players struggle to bring the ball upcourt.
Welcome Home- Donte wHitner, who signed with the Cleveland Browns as a part of Tuesday's "NFL Free Agent Frenzy". A Glenville graduate, it will be great to see another Buckeye defending the home turf…
Getting Paid- Whitner wasn't the only former Buck on the move, as safety Malcolm Jenkins signed a deal to play with Philadelphia next season as well. Jake Ballard also inked a one year deal with the Arizona Cardinals, who hope to find a quarterback to throw him the damn ball.
It May Be Winter- But the Buckeyes are out on the links… rough life.
Pay It Forward- Our favorite Buckeye from the St. Louis Area spent some time following Woody's mantra this past week, with a visit to the Children's Hospital to say "hello" to some young fans.  Great kid, that EzE…
Never EVER Too Young- You've got to raise your kids well, so having them understand The Rivalry from an up-close and personal perspective is crucial. Today was a step in the right direction, as the rosters for the Ohio-TSUN all star showdown was released… and the mitten state doesn't stand a chance.
Fly On The Wall- That's what I'd have loved to have been at last week's meeting of the offensive minds in Columbus, involving Tom Hermann, Chad Morris, and Jake Spavital from aTm. That's a lot of firepower…
Well, Duh- Archie Griffin, greatest Buckeye football player ever.
Laying The Foundation- If there was any doubt that the NFL takes Ohio State's program seriously, last week's "Career Day" certainly put that to rest. Here's a reminder from Sammy Silverman: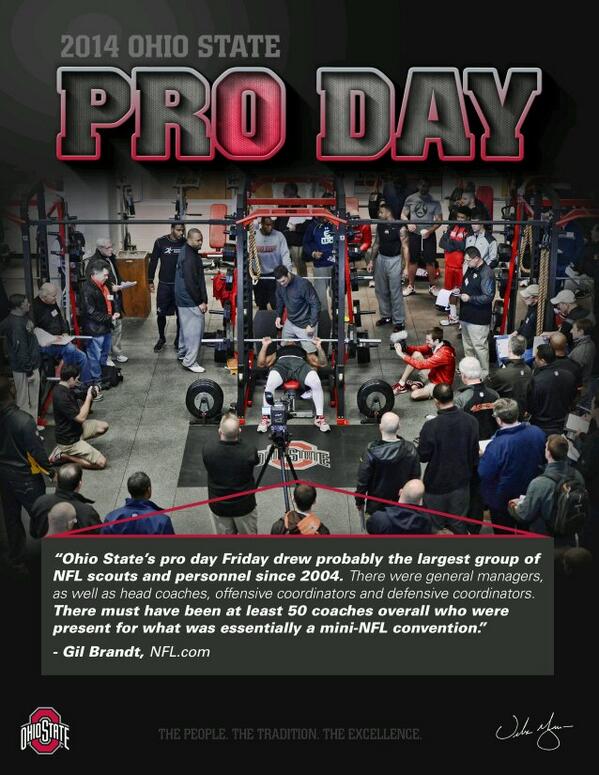 Elsewhere
Legally Speaking- Yet another interesting development in the "let's sue somebody so that college players will get paid" realm of reality- now there's an anti-trust action that seeks to push potential future payments past the cost of tuition.  Attacking the argument that players "already receive scholarship", this suit says that such thinking limits their earning power based on the cost of the institution. Logically, then, Bradley Roby "made" more this past season than Braxton Miller did, since Bradley received tuition that should have been a higher cost as an out of state student.  While I'm interested in seeing how all of this plays out, I have two thoughts on this particular situation. First, will players at, say, West Virginia want money equivalent to the tuition cost at Stanford or Southern Cal?  Second, my spider-sense is telling me that we're going to see a lot of these types of actions in the news, and not because people are wanting to protect the student athlete.  Seems to me that these types of situations may end up being seen as cash-cows for less than reputable legal teams… which would merely switch the nameplate on who was taking advantage of the student athlete.
World's Strangest Cameo? Mark Dantonio and Rich Homie Quan… BFF
Less Flippity Floppin- That could be the result of an NCAA proposed "early signing period" for football.  Personally, I think that all this will do would be to give the kids that are 100% committed and sick of the drama an "out" of the process… the ones who enjoy their moments in the sun will continue to wait until NLOID.
Speaking Of Which- Malik McDowell still hasn't signed his Letter Of Intent. So there you go.
Slow And Low, That Is The Tempo- Actually? No.
And Finally
Man, I wish I was a pilot: