Well, another Senior Crawl has come and gone in Columbus and we get ready to celebrate with the graduates of the Ohio State class of 2014 (including our friend Janelle!). You can't think "graduation" without today's soundtrack, I'm guessing… and we'll give you the version that features yet another great Ohioan.
Buckeye 411
Lesser Charges- The story of the day on Tuesday was Bradley Roby's decision to plead to a charge lesser than the OVI that he was initially confronted with, and accept a sentence of $375 and a three day driver's intervention course. Given what came out regarding his field sobriety test and an anonymous call the night of the incident, it may be a good thing that this wasn't pressed further. Whether or not this impacts his draft status is yet to be seen.
Getting Drafty- If you're the type who likes projections and that type of thing, here's a look at LaQuinton Ross' skills as the NBA process nears.  I'm not a guru, but this seems to be pretty dead on.
June N00b- Former Crimson Tide Chad Lindsay will be getting a jump on things and will be enrolling at Ohio State in June- just in time for the voluntary (wink wink) workouts.
Two Hats And A Sweatervest-Jim Tressel is in the top three at for the presidential searches at both Akron AND Youngstown State, making for a really awesome potential "selection ceremony" if the schools would chose to go the NLOID route.  Another option would be to have the selection via American Idol type announcement or even one a bit more dramatic.
Wither Wimbush? I try not to pay much attention to the whims of 17 year old adults, but there's been a lot of frustration regarding Ohio State's current recruiting successes. Most recently, one time "strong lean"QB from New Jersey seems to have fallen out of love with Ohio State, looking instead at Penn State as a strong possibility to "take his talents to".  It will be interesting to see if the other PSU news from Tuesday (see below) has any impact on the James Franklin's mystique.
Wrasslin'- It's almost as awesome as Mr. Poffo (mentioned above), but there will be some Buckeyes who hit the big stage as a part of an exhibition match in New York City.
It's Swimsuit Season- So you'd better get in shape… If you're not working out with Clair, then you better hit the weight room… and Sammy Silverman reminds you where the best one in Columbus is: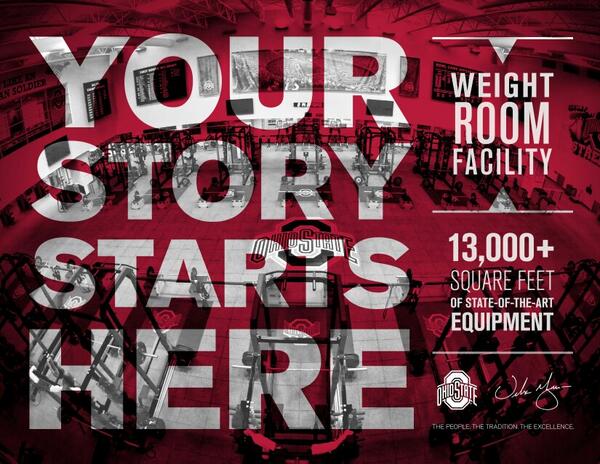 Pay It Forward
If you haven't been paying attention, it's been a pretty awful week of weather for folks in Oklahoma, Mississippi, and Alabama. Our friend and award winning sports journalist Robby Donohoe has done a great job at covering both the weather and documenting the devastation from the tornadoes in his neck of the woods.  As you're looking through his twitter account, be sure to also look for opportunities to make a difference and help with the recovery.
Around The NCAA
This, They Didn't Need- This week's "excellence in press release timing" award goes to the folks who chose to announce Tuesday that James Franklin's involvement in the sexual assault allegations at Vanderbilt might have been greater than earlier known. Again, the scheduling was excellent.
The concerns against Franklin are troubling; according to legal action brought by one of the respondents in the sexual assault investigation, Franklin made contact with the alleged victim soon after the incident in question, and that he also approached her in a private meeting later to discuss her assistance with a 'hostess' program, even though he acknowledged knowing that it was "against the rules." Franklin dismissed the allegations in a statement late Tuesday, but the significance of this didn't escape many around college sports.
Penn State, as you remember, is just now stepping out of the shadows of the Sandusky matter, and is still under investigation (to the best of my knowledge) from the Department of Education regarding violating Clery Act expectations about mandatory crime reporting. Additionally, they just named as their new president the former leader at Florida State, where another Department of Education investigation is underway following the Jameis Winston matter and university compliance with federal Title IX protocol.
This is, unfortunately, not limited to just Penn State- the White House on Tuesday also released information regarding initiatives to address sexual assault on campus, and initiatives to get men more involved in helping halt these types of situations. Here's the PSA released yesterday:
It's important to talk about this in the light of athletics without making it an athletics issue… With investigations at Michigan, Missouri, and (now, apparently) Penn State and accusations earlier this year in Columbus, the questions that we've had about other matters ring true here. This is an important issue for those of us that care about the college experience; and it's easy to wonder if the power and money and prestige that comes with major university sports also might create an environment where the possibility for poor decisions, from students and administrators, might be heightened.
That being said, it's also good to read that there are steps being taken to be ahead of the issue at the University that we care for so deeply.
And Finally
It's graduation at my place of work on Saturday, and I've already promised one of my students a whopping $4 if they do this upon receiving their diploma: