Bruce came to visit Ohio last night… and at least one person had a great time at the event. UPDATE: Video Evidence. So, today's soundtrack is one of my favorite songs from The Boss… even if it's somewhat new, it's still a classic.

Buckeye 411
Representing In North Texas- Aaron Craft was involved in this weekend's festivities, although not in the way that any of us would hope. Not only did he get his one shining moment, but he was honored as the National Defensive Player of the Year as a part of the Final Four events.  He was also a part of work that the honorees did with Special Olympics basketball players, who undoubtedly left the opportunity more scrappy and tenacious for their efforts.
Taking One For The Team- Great article in Tuesday's Dispatch about Joel Hale, a starter at nose guard last season and his decision to request a move to the offensive side of the ball for his senior season.
Good Gig If You Can Get It- Ohio State will be paying Virginia Tech, Cincinnati, and Kent State to bring their talents to the 'Shoe for 2014.  This isn't really all that unusual, but the $2 million total is pretty significant. It should be noted, though, that the Hokies will more than likely return the favor next season when the Buckeyes travel to Blacksburg.  The Buckeyes will see $850k return to their coffers when they face Navy to open the season, given that it's a "neutral site" game in Baltimore.
Congrats, We Think- Dan Sanzenbacher has been re-signed as a professional athlete!  But it's with the Bengals… so it's hard to know whether or not to send flowers of celebration or condolences.
Gear- While there are a lot of reasons to be concerned about the welfare and circumstances of "student athletes", "lack of awesome apparel" should not be one of them, as the latest offering from Sammy Silverman shows: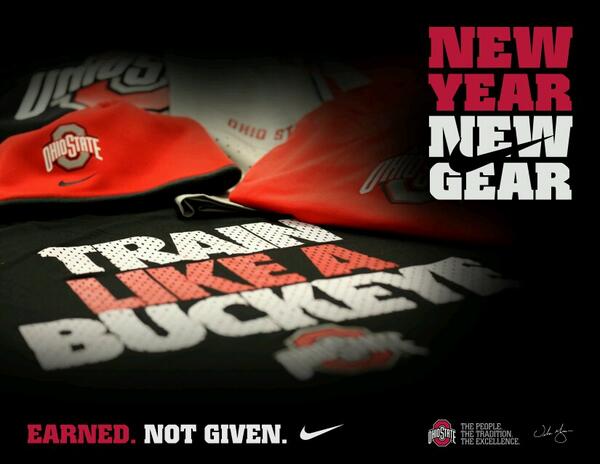 Unions
Around The NCAA
Starving Artists- UConn's stellar point guard Shabazz Napier made news off the court over the past weekend with his comments that he often goes to bed "starving", and that players should see some of the funds being produced by their efforts. Our Brother From Another Mother Jeremiah ripped this argument to shreds Tuesday on twitter, pointing out that Napier's history included private school, his wardrobe includes expensive extraneous gear, and that his mom seems to be able to travel to all of his events.  Look, you know my thoughts- Students do deserve a piece of the pie, but we should also acknowledge the things that they do receive and work toward equity.  Hyperbolic statements denying the training tables that most college students would love to have the chance to partake in doesn't help further the conversation at all.
I'd Rather Be Starving- Maryland is super excited about joining the B1G, you guys… so much so that they're going to have conference flavored Ice Cream.  I'm guessing the Purdue one tastes like socks and sadness.
Won't Matter- Hoke will eat it anyway.
#Michigan Is Watching- Their star tackle get his arraignment pushed back until after the NFL draft.  Proud.
The Penn State Way- Is not to cover something up (anymore); major kudos to Coach Franklin for dealing with this quickly and transparently.
Big Blue Bye Bye? Rumors on Monday night swirled that John Calipari would be leaving Kentucky to head up the Los Angeles Lakers next season, something that should seem familiar to anyone who's followed his career.  What might be cause for sleepless nights around Nicholasville would be the history- when Cal leaves, the NCAA is not too far behind; UMass and Memphis fans are now nodding vehemently.  Look, you may know that I'm a graduate of a Master's Program at UK; if Cal leaves, the alumni office is welcome to start contacting me again.
And Finally

With our own Dexter getting ready for Fatherhood, I present an exciting preview of the rest of his life:
If that ain't an advertisement for birth control, I don't know what is.