It's Wednesday, so you totally should be sobered up from your Memorial Day celebrations.  While many of y'all were enjoying your Saturday slumber, your humble correspondent was up planting flags before the sun arose… certainly better than the usual Los Angeles morning. Well, what do you think was going through my head on the trail? What do you think I saw?
Buckeye 411
Welcome Home! Quick update from last week… Chase is right back where he belongs.
Getting Grilled- Also building on last week's reminder; the Spring Champion's Dinner was Tuesday, with Buckeyes being served either hot dogs or steak (neither of which were barbecued). Nothing says "family" like steak and swag, am I right??
A Leader Has Emerged- We told you yesterday about Joe Burrows, the latest Ohio State verbal and another in a long line of in-state quarterbacks to don the scarlet and grey.  Marcus Hartman looks deeper at the Buckeye QB legacy, though… fingers crossed for the future.
Next? This weekend will possibly be a huge one for Ohio State recruiting, with Nike Camps hosting a number of targets for the Scarlet and Gray. Keep your eyes and ears tuned.
Old Time Rock And Roll- Carlos Hyde, playing in a "spread" offense, has found his niche as a "throwback" runner. If only they'd given him the ball one more time.
Stepping Up- Ryan Shazier has also started to carve out a spot with his new team (more later), seeing time with the first string defense in drills over the past week.
For A Spell- We poked a little fun at our friends up north last week, with their "Michigan Men Spell How They Wish" philosophy. Well, today it looked like the shoe was back on the other foot, until it was clarified that this creation was not from the University… no official logo, and rebuked by OSU's top man.  So, more likely than not, this is yet another poor attempt by as fan from "The Harvard Of The West".
This Is More Like It- Nothing that comes easy in this world is worth a damn… everything requires work: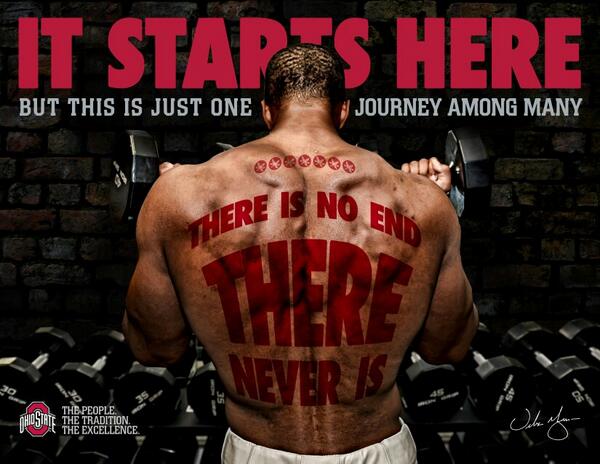 Commentary- Conflicts Of Interest
I'm not much of an NFL fan. Oh, to be certain, I'll avoid my family watch the games on Sunday and Monday, and always pay attention to the playoffs, but I don't have "a team".
And no, this has nothing to do with living in Los Angeles.
I was raised by Cowboys fans… mom and dad loved The Hat. At some point, though, I began to appreciate the play of defenders (where I would end up playing in college), so the work of the Steel Curtain, the '86 Bears, the LT/Pepper Johnson led Giants won my allegiances.
It was also during this time that I came up with my current strategy for professional affinity:Which team has the most players on it that I loved watching in college.  Yup, if I had "a team", it was the Buddy Ryan Eagles. Buckeyes Keith Byars and Cris Carter, Reggie White and Jerome Brown, Keith Jackson, and the greatest punter of all times… Randall Cunningham.
It's what I follow even today- "Which team has the most Buckeyes?" is followed by "Most Cornhuskers?" in order to keep peace in the household. My interest in the OSU-centric 49ers is easy to defend, but I'm understandably more intrigued by the World Champs than I may have been earlier.
As someone who isn't a die-hard NFL fan, though, I haven't had to do some of the emotional and logical gymnastics that many supporters go through during this time of the year.  Many Buckeye fans were quick to proclaim that Texas A&M's "Johnny Football" was a spoiled trainwreck… but now that he's a Brown he's "our spoiled trainwreck", and shouldn't be trifled with.
Likewise, Ohio State fans from the southern half of the state who thought that AJ McCarron was merely Saban's Minion are hopeful that he might be the messiah for a Bengals program that could use some good news… or at least news that doesn't involve the police blotter.
But what do Bengals and Browns fans do with John Simon, Ryan Shazier, Cam Heyward, Mike Adams, Will Allen, and Bryant Browning? Simon is just one player… albeit one that plays for the traitorous "Ratbirds" of the Modell family.
With the black and gold, though, it's a lot more complicated… Not only have the Steelers been the most successful franchise in the division over the past 30 years or so (at the expense of Cleveland and Cincinnati alike), but former Buckeye Dick LeBeau is one of the architects to their victories. And he will be directing some of the more potent weaponry to be honed in Columbus. Our friend Janelle was raised in Pennsylvania, and never stopped loving her Steelers- for her, this year's roster has got to be a pretty fantastic proposal (although not the best she'd received recently)
How do you reconcile the loathing that you feel twice a year during the regular season with the love that you felt every Saturday for three or four glorious Autumns? Ramzy took a look at this from the perspective of the individual players and our response to them… I'd argue that it's OK to take that one step further.
Sure, cheer for the Bengals and the Browns, but in other situations remember the one rule that should hold your heart:
You can't go wrong pulling for the team with the most Buckeyes.
Around The NCAA
And Finally
It's summertime, so here's a confession: I don't really enjoy the ocean, even though I live near the coast.  This video helps explain my rationale: