Well, we've grown yet again. Not only did we add Mike to the team, but Joe and Scott are both newly christened fathers! Congrats, and we hope that you survive all of the smelly diapers and sleep deprivation.  That goes for you also, Scott and Joe.  Here's today's musical kickstart, dedicated to our new dads, even though Mother's Day is right around the corner.
Buckeye 411
Movin' On Up- We talked about this last week, but Saturday's graduation saw a number of Buckeye Idols receive their degrees and walking papers. Marcus Hartman hits the triumvirate of tBBC favorites in pointing out that Aaron Craft, John Simon, and Katie Smith are all now on the list of people the Alumni Office will hit up for donations.
Step Off Of That Ledge- To build on Mike's take from Tuesday morning, there's no need to panic regarding Ohio State football recruiting thus far.  If you don't believe me, trust Eleven Warriors' Jeremy Birmingham, one of the best in the business. Plus, getting emotionally invested in high school kids' decisions and actions is never a wise move.
No More Pro Combat?- Carlos Hyde, adidas rep.  If only they'd stop making ridiculous uniforms, though…
Getting Drafty- Believe it or not, there are people involved in Thursday's draft who aren't named "Clowney" or "Manziel" (as a side note, you realize that Johnny Football is the new Tim Tebow in the eyes of the Four Letter Network, right?). At any rate the University put out a great website resource for all of the draft junkies: The Buckeyes are second in terms of overall first round picks and third in terms of total players chosen. No wonder the Worldwide Leader has invited Urban Meyer to be a part of their draft day coverage.
Or, For You Visual Learners- Sammy Silverman's got you covered: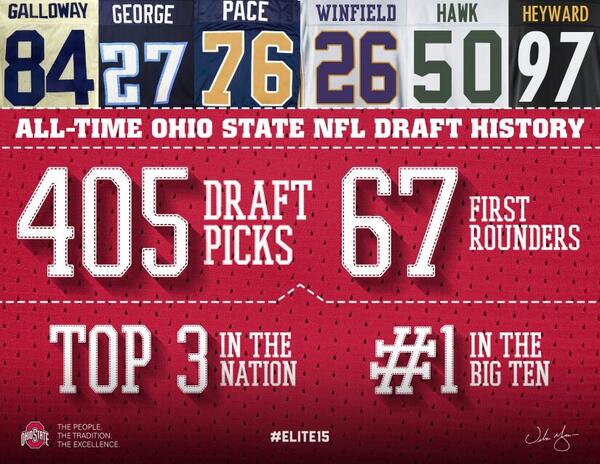 Gettin' B1G
Around The NCAA
"While there is no doubt the incidents occurred, the conflicting statements and actions by the victim make this case unprovable as a criminal case."
While some would point to this as yet another example of law enforcement turning a blind eye when athletes are involved, it should be noted that criminal cases have a different standard of evidence than university investigations- think OJ Simpson's criminal and civil cases.  As we hope for support and recovery for all those involved, it will be interesting to see what steps the University takes in the following days, as their deliberation is based on "more likely than not" that something happened.
And Finally-
No matter your faith tradition or perspective, this is pretty freaking cool.  Full story here.