With our lead story today being what it is, of course there'll be the obvious tie-ins for the soundtrack of today's SBP.  If 70′s rock ain't your thing… here's some 80′s pop and some country instead.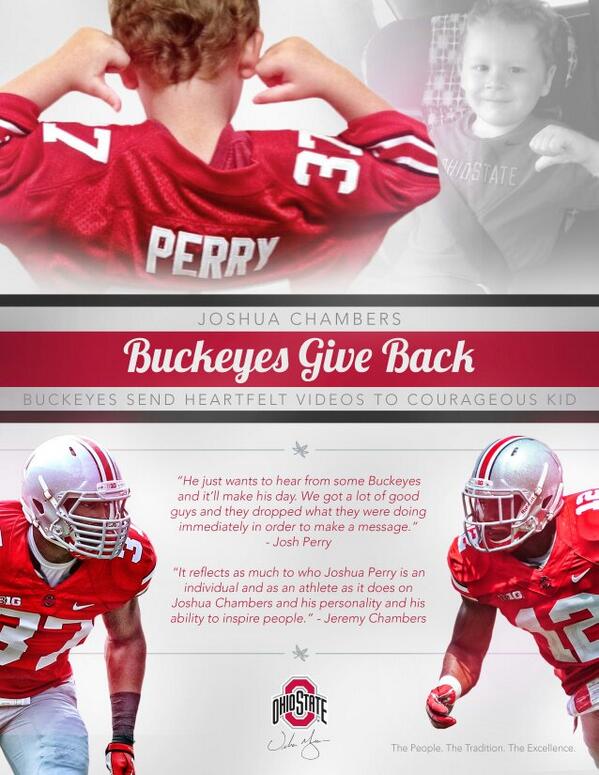 Buckeye 411
Pucker Up- Oh man, oh man, oh man… Kenny G is coming to LA! Sure it's a long way from The 'Shoe to here, but we're really really REALLY excited to see him don the black and whatever the hell else is on their uniforms.
Paying It Forward- The gang over at Eleven Warriors had a great story this week about Josh Perry's relationship with Josh Chambers, an amazingly brave young man who's undergoing treatment for leukemia.
Your Turn- You can get involved at the website set up here… no reason not to!
B1G Speed- There's a Buckeye on the list of Bryan Fisher's list of 14 fastest college players, but what's surprising is that there's someone from something called a "Purdue" at the top of the list. Take it for what it's worth.
On Track? Well, some of Ohio State's speed will be looking for a new leader, as the Track Program replaces Coach Beathea.
Who's Your Daddy? Eddie George, of course.  Notre Dame already knew this… Illinois too.
Big 'Shoe To Fill- The University put out photos today of the expansion work being done on the endzones. Still looks like a Horseshoe, but I think it's possible to get too big. Wouldn't want look stupid with ticket sales, right?
We're On A Boat- Ohio State, rowing school.  I guess being next to the Olentangy has some benefits.
Gettin' Paid- David Lighty, fresh off the league championship, has renewed his contract with ASVEL, a team owned by Tony Parker, who's going up against Greg Oden in the NBA finals.
Academic Investments: Lori Schmidt did some great work in compiling Buckeye majors; because they are students, right?
Speaking Numerically- MotSaG's Sylvester Yon Rambo reminds the world why the SEC has an advantage over even the best B1G teams.
Never Too Early- to start looking at the upcoming season, and Patrick will help us out with his preview of the Buckeye foes starting tomorrow.  In the meantime, though, here's Bill Connelly's early season look at "the B1g Ten Standard".
If That Weren't Enough- Here's the official "gameday experience" video to help you run through any walls that you might encounter this morning. I may have linked to this before… but I just don't care:
Commentary- We Are The Champions
One of the things that I like about college sports is that there are winners and losers.
Given our current zeitgeist of "everyone gets a trophy", when youth sports even stop keeping score, it's important to remember St. Woody's teaching- "Without winners, there wouldn't even be any civilization".
And at the end of the game, at the end of the season everyone knows who the victors are… no inappropriate songs necessary.
Well… sorta.  Among the news this past week was the story that "championship inflation" is a statewide phenomenon in Alabama, as Auburn joined the Crimson Tide in laying claim to national titles that no one else acknowledges.
Well, the "media backlash" led to a response and… it's the offseason. What else is there to talk about?
Over at SBN they dug a little deeper and found that there are a ton of "unclaimed" national titles… including seven for the Buckeyes. So- do we pull a Texas A&M and start hanging banners and signs from some of these other seasons? Wait… we already do? Huh…
Look, you remember my take on this whole discussion... "Championships" are only as meaningful as we allow them to be. The NCAA doesn't recognize any at the Division 1 level; even with the new "playoff" model that's not going to change.
Plus, if fans want to be delusional about their team's successes, there's not really much we can do to stop them, right?  If that were possible, would we have annoying Notre Dame and Penn State fans to deal with on a daily basis?
So, let the Tigers have their 28 national titles… teams with winged helmets have a blessed propensity to live in the distant past.
All that matters to me is the scoreboard on November 29, 2014.
More Video Distraction
Around The NCAA
And Finally
Yup… this is how my students look at me on a daily basis: