Little switcheroo this week; with camp in full swing as of yesterday, here's some notes and so forth from the start of Ohio State's 125th Season.  Inspired by Scott's wise-acreage in our group chat this week, you're stuck with this as your morning soundtrack.
Ch-ch-ch-ch-changes- The University announced on Monday that the OSUMB will be led by two current staff persons for the coming season, with

Ohio State's director of university bands, Russel C. Mikkelson as the primary contact person. The associate director of bands, Scott A. Jones, will be coordinating student safety and compliance with Title IX and other university directives. TBDBITL Alumni Lisa Galvin will also be assisting in the day to day operations… So they tabbed three people to do the job they expected one person to do previously. Huh.

Look! We're On TV!- Jon Waters will be on both the Today Show and Good Morning America this morning. Getcha' popcorn.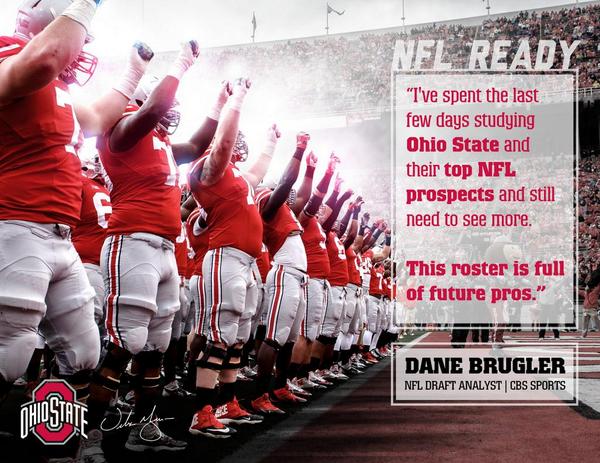 Buckeye 411
Roster Updates- We told you about Tracy Sprinkle; Tommy Brown was also absent, as he is planning on transferring to another program (Akron?). J.T. Moore was in a "student coach" role, due to a knee injury. Michael Hill received a medical redshirt for last season, and will be a freshman eligibility wise for the coming year. Darron Lee was also granted a medical redshirt.
Pay The Piper- Sprinkle will be suspended for the Navy game and have community service to complete before he's fully reinstated, though, as was speculated earlier.
Split Squad- On Monday, the "rookies" practiced in the morning while the "veterans" went in the afternoon, with a few exceptions.  Jeff Greene (WR transfer from Georgia Tech, sat out last year) and Chad Lindsay (C transfer from Alabama) were with the AM crowd, while Raekwon McMillan and Johnnie Dixon practiced in the afternoon session. This was due, in part, to McMillan and Dixon's work during the spring and off-season, but also due to some numbers issues (needing a certain number of players at a position to practice)
One Flu Over- Gareon Conley sat out due to illness issues.
For Kicks- Cameron Johnston was booming punts today, but shanked one when "Born In The USA" was blaring on the loudspeakers.  We'll just chalk that up to an international incident. Dontre Wilson, Jalin Marshall, and Corey Smith were on the receiving end of the punts for today's practice.
Man Of Many Talents- Sam Hubbard, once a defensive back, then a tight end, practiced at linebacker today (his projected position)
Captain, My Captain- Coach Meyer turned this morning's pre-practice meeting over to Jeff Heuerman, saying "it's your team". Foreshadowing?
Recovering Nicely- Braxton was "tired" today, but there's no doubt in Coach Meyer's mind that he's 100% entering fall practice. The team will monitor his throwing though- a pitch count of sorts.
Battle Tested- Two to watch this fall: Left guard is up for grabs, as are the safety positions. Underwood, Hale, Farris, and Price all fighting for the offensive line spot, while Bell, Burrows, and Powell are vying for the safety slots.
Sonic Booms- According to those who were there, Coach Ash was the most vocal member of the defensive coaching staff today. Given that he works in the backfield with Coach Coombs, that's quite an accomplishment.
See For Yourself- The gang at 11W have practice videos, and you can hear the thoughts of the head coach at the official OSU site.
Back In Black- It's time for the annual whispers of a black alternate jersey for Ohio State this season.  If it must happen, I wholeheartedly support Josh Winslow's idea for the look (Hyde not included).
This Is Gonna' Be Fun- We love Michael Bennett hereabouts, but this story on his roommate situation makes it all that much easier to do so.
Culture Of Hazing- Somehow, still ok (and hilarious) in the NFL, as Jack Mewhort can attest:
Hoops Scoops
Ah, The Bahamas- Ohio State travels to the islands in a few days for some scrimmage work. Rough gig. Coach Matta said today that they liked to do a trip like this once ever four years, but delayed this time by one season due to the huge turnover that was expected entering 2014.
Not So Fast, Trevor- The Virginia Tech transfer was not cleared to go to the international scrimmages, but no word as of yet regarding his eligibility this season.
Cleared For Takeoff- Jae'Sean Tate's shoulder has reached the point where he's good to go from practice, bringing defensive tenacity to the scrimmages thus far.
Hoops Madness- Ohio State will host Marquette on an aircraft carrier in the Schott as a part of ESPN's College Basketball Tip-Off Marathon.
Around The NCAA
And Finally
I'll be honest, this is probably the best that "Royals" has sounded… and the audience is right for it as well: