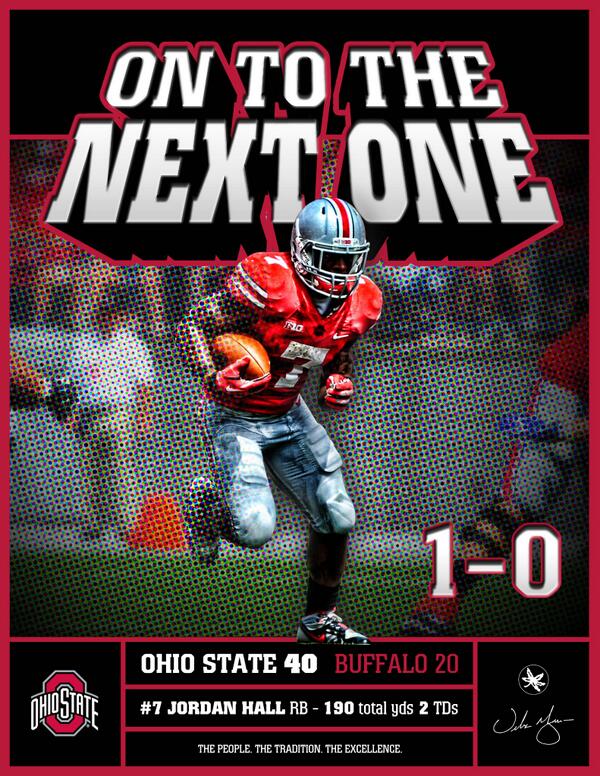 When I first mentioned doing this article and having it every week on game eve, I was truly worried whether or not I would have enough material. The truth is, there's plenty from around the sporting world to fill the good, the bad, and the ugly up to the rim. Let's get started with the first easy part.
Rumblin
Everybody is talking about Jordan Hall's game and in our first effort to get the fan's involved with tBBC Fans Interact:Buffalo he was the Unanimous choice for #BufOMVP 11-1 over QB Braxton Miller. His first long TD run was ton's of fans favorites as well for #BufTopPlay. Hall was rumblin to the tune of 21 carries for 159 yards and two TD's.
What I am surprised nobody is mentioning, unless I have missed it this past week, is what that performance really means to the career of Jordan Hall at Ohio State. In one game, and bear in mind he has been snake bit the entire time he has been here, he almost topped his totals in three of his other seasons.
CAREER STATS
RUSHING
RECEIVING
SEASON
ATT
YDS
AVG
LNG
TD
REC
YDS
AVG
LNG
TD
2013
21
159
7.6
49
2
3
14
4.7
11
0
2012
40
218
5.5
15
1
3
31
10.3
14
0
2011
99
405
4.1
25
2
12
114
9.5
38
3
2010
37
161
4.4
16
2
8
83
10.4
25
1
2009
48
248
5.2
39
1
1
5
5.0
5
0
Look closely and you will see that in one fell swoop he set his new career longest run from scrimmage(49); scored as many TD's(2) as he had in any previous season total, and set the tone for how valuable he will be this season catching the football(3/14 in tough spots). Granted, he will need alot more carries to surpass 99 in a season, which he will do regardless of Hydes return. He will also keep the YPC average up high, he's proven to gain well on each carry.
I for one am very pleased with his first game performance considering he also had one of the best LB's in the college game tracking him down every play. Jordan Hall will have one of those kinds of seasons that only come around every once in a while in Columbus and he may very well be the one to give Coach Meyer his first 1,000 yard rusher that's not a QB.