Quick change of title format for our Wednesday update, for reasons that will soon be evident.  Also taking a beat from the news, today's soundtrack goes all Roger Goodell on life.
Buckeye 411
Tight End, Loose Cannon? Kyle Rowland of Eleven Warriors broke the news late Tuesday that Buckeye tight end Marcus Baugh had been suspended from the team indefinitely for yet another issue with underaged alcohol usage.  While many of us would file this either under "meh" or "college lyfe!!", it's important to note that this would be Baugh's third "incident" while a Buckeye, and his second involving alcohol.  He was removed from scholarship last summer, and was removed from team activities in September as well… it will be interesting to see if Coach Meyer believes in a "three strikes and you're done" policy.  Baugh has always been seen as an amazing athlete, but his absence will mean that the other tight ends in the system (Heuerman, Moore, and Vannett) may be asked to bear the burden during the spring and beyond; the 2014 recruiting class does not have a tight end in the mix as of yet.

Happy Birthday! One day late, but still- Jack Nickalaus turned 74 on Tuesday. I would have mentioned this yesterday, but like most things involving my golf game I was way off target.
Hard Knox? Buckeye verbal Demetrius Knox made news on Tuesday with the announcement that he would be making an official visit to UCLA this weekend in spite of his commitment to Ohio State. Many feel as if this is a "vacation" opportunity, but it should be noted that the Bruins have several of Knox' teammates in the fold and only have one offensive lineman in the class thus far.  Interestingly enough, though, Coach Meyer, Warriner, and Herman will all have their "in home" with him today, so it remains to be seen if the trip to Westwood actually occurs.  If it does, I might need to head that way myself to wander around campus with my Ohio State swag on.
Speaking Of Recruiting- It was an interesting day in Ann Arbor on Tuesday, with their number one recruit for the 2015 class, 5 star running back Damien Harris decommitting from That Team Up North. What makes this worthy of the "Buckeye 411″ you ask? Well, his recent two twitter follows include Stan Drayton and Tim Hinton, and it's rumored that he spoke with Urban Meyer over the weekend.  Hmmmmm…
The Future Is Now- Sammy Silverman with a look at the early enrollees in the Dream 2014 class: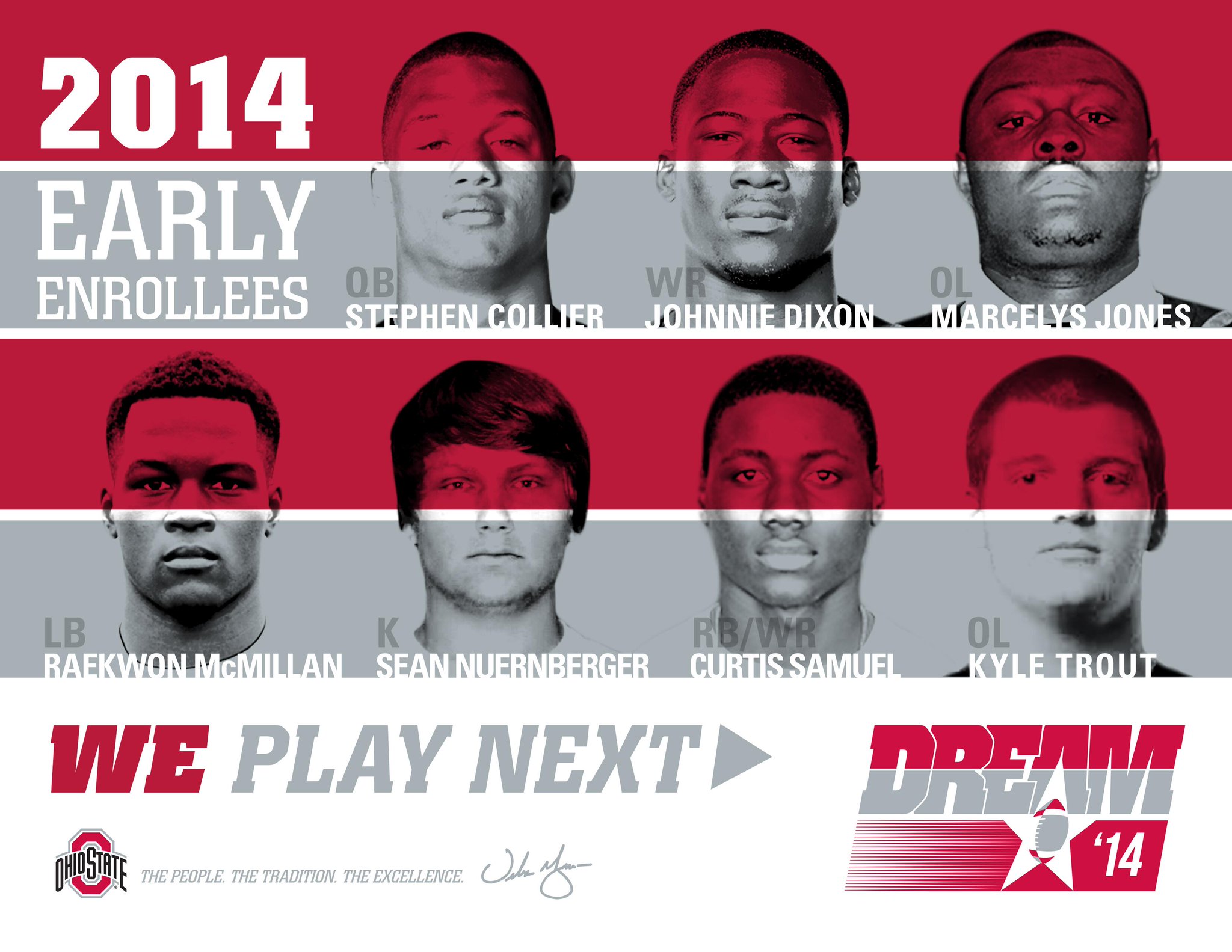 Good Word For A Good Friend
You know Mekka Don from all of the great OSU tunes he's busted into your subconscious- "Let's Go!", "Juice", and "Go Nuts" just from the hoops and football seasons alone.
Well, his first major release is in the works, and he's launched an Indiegogo campaign to give you the chance to get in on the ground floor.  Here, we'll let him tell it:
There are great "packages" available for donors at all sorts of levels… if you're into hip-hop and supporting a hard working artist who's out there grinding every day, here's your chance.
And Seriously
Thoughts and prayers go out to the families of our Boilermaker brothers and sisters today, particularly the friends and loved ones of the student who lost his life in today's tragedy.
As we look at the photos of tonight's vigil, we can't help but be reminded how fragile our lives and the experiences on our college campuses are. Yes, the number of these types of incidents are way down over the past thirty years or so, but any number greater than zero is still too great.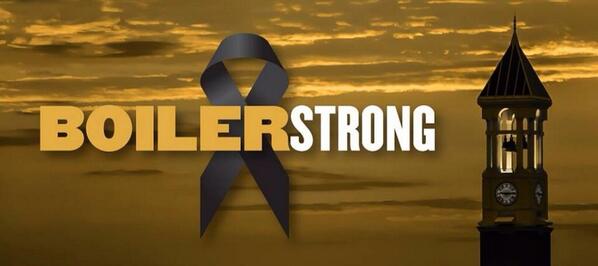 We all have Boiler ties- Coach Hazell and staff are very "Buckeye-centric", and we think too of our Boiled Sports friends and favorite Mississippi sportscaster.  We're behind you 100 percent, Purdue, and will continue to work to ensure that students, faculty, staff, families, and community members are safe and welcomed on campuses across the country.
Across The NCAA
And Finally…
Probably for the best that wingsuits weren't around about 25 years ago or so… or yours truly would probably be splattered all over a cliff trying something like this: